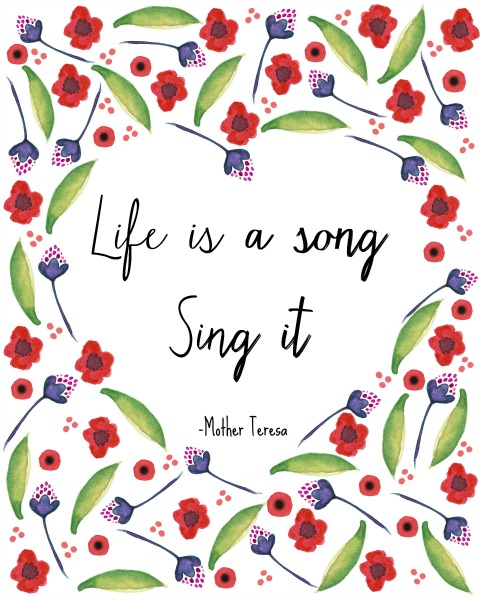 Life is a Song Printable
This months free printable is a quote from Mother Teresa. I find a lot of her quotes inspiring, but this one is speaking to me this month as I am trying to live in each moment rather than rush them along to prepare for the next one. Does that make any sense? I think the whole move has finally caught up to me, and I don't mean that in a bad way. I am really enjoying our time in Cleveland. I've just been allowing myself some much needed down time.
Click on the link below and it will take you to the file where you can print onto 8 1/2 X 11 paper. It will fit into an 8″ X 10″ frame if you trim a little off the edges, or you can tape it on a wall with washi tape. I like to print mine at Staples or Office Depot. The color is always a lot more vibrant. Ikea sells the Nyttja frame that fits 8 1/2″ x 11″ paper perfectly for only $1.99. It comes in white or black.
CLICK BELOW TO DOWNLOAD

( Click here to download the Life is a Song printable)
I will be back next week with a little fall tour.