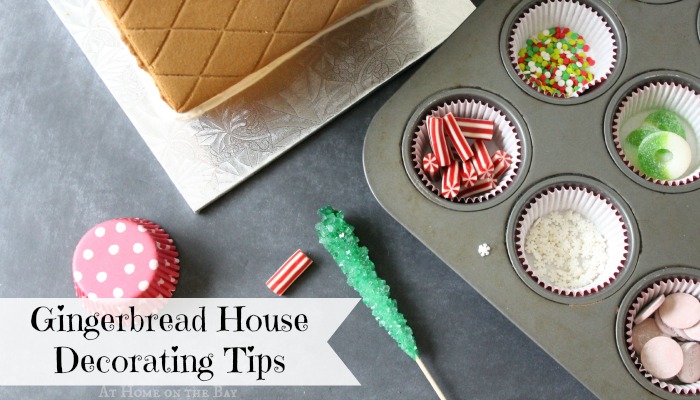 In my years of decorating gingerbread houses each Christmas season, I have had plenty of mishaps. I've had walls cave in, cookies crack and a candy decorated roof slide off its yummy foundation.  You name it, and it has probably happened to me at some point.   But, I still keep coming back year after year making this symbol of holiday cheer. It's a tradition now, and one that I'm glad I started all those years ago.
Today, I am sharing some of the tips I have learned through my mistakes over the years.
1. Buy extra candy. I have learned the hard way that there are always broken or undesirable shaped pieces in every bag. There is almost nothing worse than being a few Necco wafers short of a roof.
2. If you make your own gingerbread house using a cardboard template or cookie cutters, re-cut or trim the cookie pieces when they are fresh out of the oven and still soft. This will help when the time comes to assemble. Everything will be square.
3. Royal icing is the traditional glue of gingerbread houses. It is made with beaten egg whites and confectioners sugar. I've always substituted Wilton Meringue Powder*
 for the egg white and have had good luck with it. I follow the directions on the package, but add the water a tablespoon at a time to make sure it doesn't get too thin.
4. Keep a moist cloth over the mixing bowl of royal icing. This will keep it from drying out.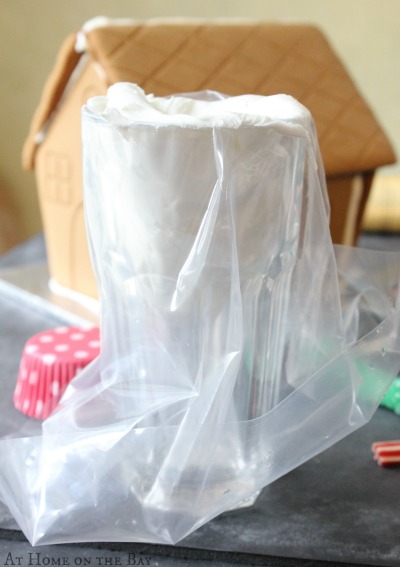 5. For ease in filling the pastry bag with royal icing, place the pastry bag inside a tall glass. Fold the top of the bag down over the glass rim. Fill bag to top of glass using rim to clean off spatula. Twist tightly shut. Clip tip off with kitchen scissors.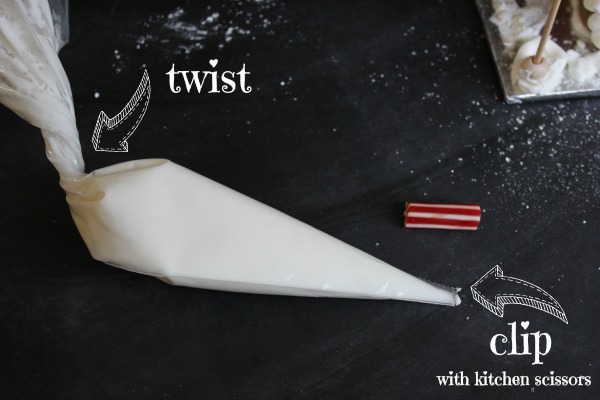 6. When you need an extra hand, soup cans and coffee mugs are perfect for holding up sides while the icing is drying.
7. Let the house dry before decorating. If the icing hasn't dried, the weight of the candy can sometimes cause pieces to slip (like a roof).
8. Having candy ready (unwrapped) and in dishes or muffin tins really helps with the ease of assembly.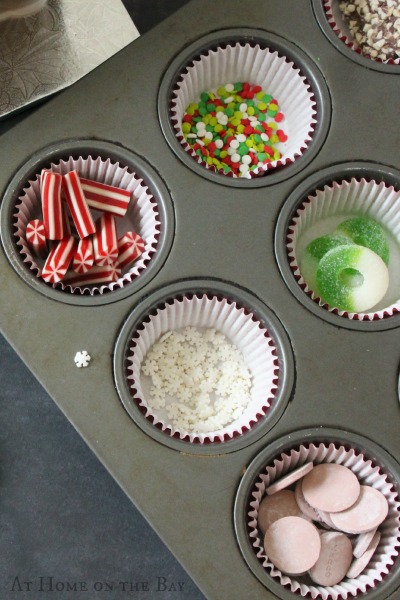 9. A sprinkle of confectioners sugar can hide a multitude of mistakes. Take it from one who knows.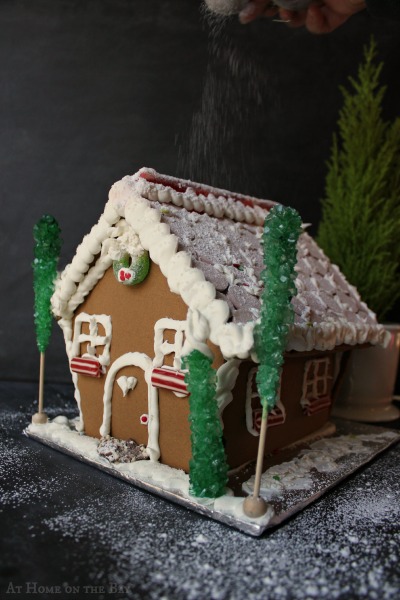 Many years ago when my son was about six, we had some neighborhood teens causing trouble with mailboxes. They would put salsa in the mailboxes, or fill them with leaves – silly stuff. My husband installed a motion sensor light by the mailbox to try and ward off the teens. That year when my son and I were making our gingerbread house, I noticed my son was adding elaborate decorations to the roof. When I asked him about it, he said it was the security system for the gingerbread house.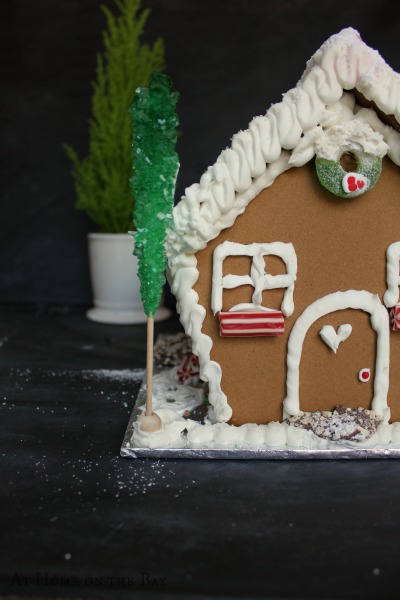 I almost forgot the last tip.
10. Have fun, include the kids and make sure it is not perfect. It will be more fun that way.

* affiliate link