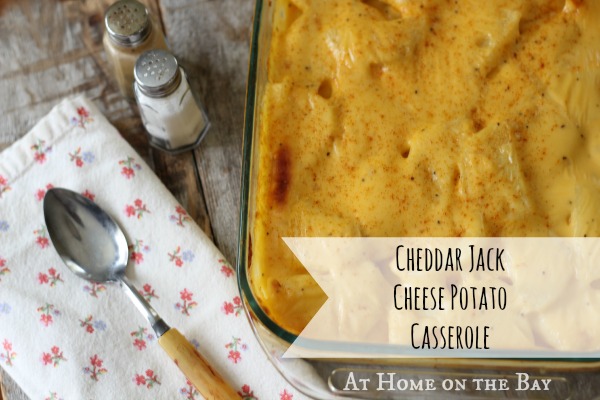 Everyone has a favorite comfort food. You know … the one you want when you are feeling a little down, or sentimental, or just want to take a trip down Memory Lane. This week I am teaming up with seven other bloggers to bring you the Comfort Food Blog Hop and Link Party. We will each be sharing a comfort food recipe that is special to us, and then we are having a week long link party where you can share your favorite recipe. Share it on one blog and it will show up on all eight.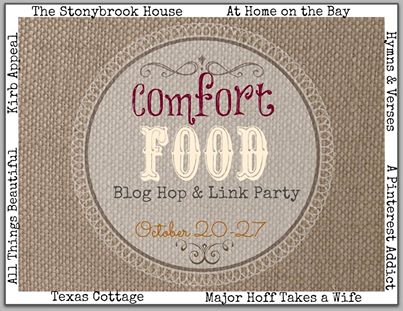 Welcome to those of you joining the Comfort Food Blog Hop from Kirb Appeal.
This recipe for Cheddar Jack Cheese Potato Casserole is a favorite from my childhood. My grandmother used to make it, and then my dad continued to make it every Easter. We found the recipe among my dad's things recently. It was in his handwriting, and it immediately brought back fond memories and a hunger for some cheesy potatoes, so I decided to carry on the tradition for the next generation's benefit (and mine) and make a batch.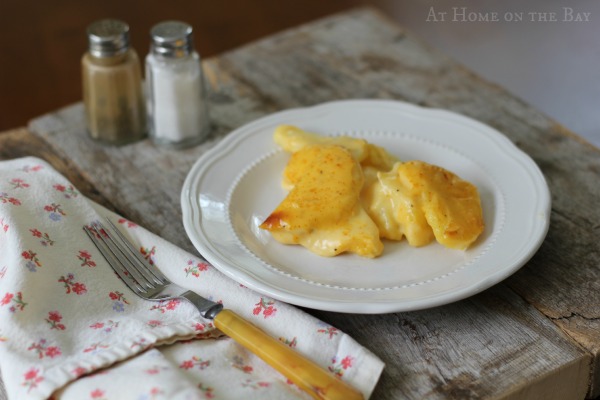 These potatoes are creamy and cheesy and the perfect feel good food. No wonder it's been a family favorite for more than 60 years.
Cheddar Jack Cheese Potato Casserole

Print recipe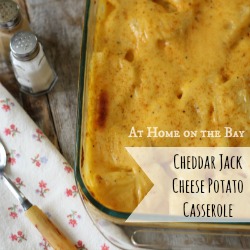 Ingredients
6 potatoes (medium sized)
1/4 cup onion (minced)
5 tablespoons butter (divided)
1/4 cup flour
2 cups milk
1/2 teaspoon salt
1/4 teaspoon pepper
1/2 teaspoon dry mustard
1 cup Cheese Whiz
1 cup Cheddar Jack cheese (shredded)
dash paprika
Directions
| | |
| --- | --- |
| 1. | Peel potatoes and cut into quarters. Place in a large pot and add enough water to cover potatoes. Bring to a boil. Boil for 10 minutes. Rinse with cold water in a colander and let stand for 10 minutes to cool. While potatoes cool, make cheese sauce. |
| 2. | In a large sauce pan, melt one tablespoon of butter over medium heat. Add minced onions and cook for a few minutes until onions are soft. Add additional 4 tablespoons of butter. Stir in flour, salt and pepper. Slowly whisk in milk. Cook over medium heat until thickened and bubbly. Cook for an additional minute. Add dry mustard and cheeses. Stir until melted. |
| 3. | Preheat oven to 350 degrees. Lightly grease a 13" x 9" casserole dish. Cut potatoes into 1/4" slices and arrange half of the potato slices in the casserole dish. Pour half of the cheese sauce over the first layer. Arrange the second layer of the sliced potatoes and pour the remaining cheese sauce over all. Bake for 30 minutes. Remove from oven and sprinkle with paprika. Bake 10 more minutes until golden brown. |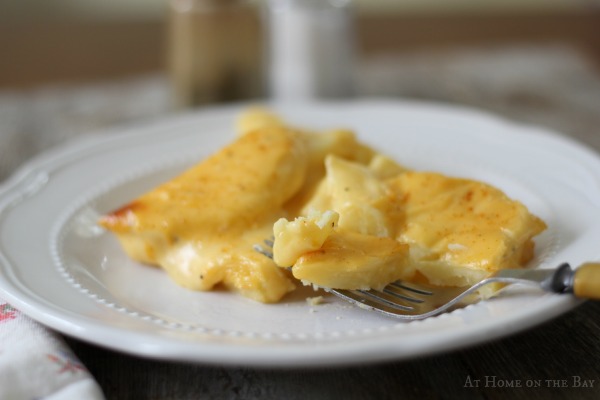 Now it is your turn to link a favorite recipe that brings you comfort.
Just a few reminders:
1. Please link to your particular blog post, not your blog URL.
2. Please provide a link back to this blog or one of the other hosts in your post.
3. By linking up you are giving the 8 hosts permission to post or feature your photo on all of our social media outlets.
Then, head on over to A Pinterest Addict to see what recipe Eliesa is sharing today.