This post brought to you by Martha Stewart Crafts/Plaid and Blueprint Social. As always, all opinions are 100% my own.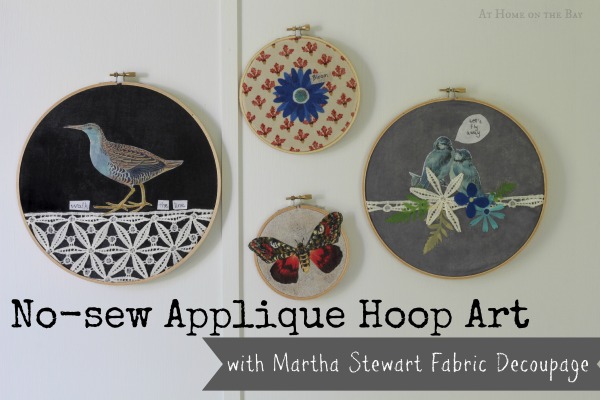 The possibilities for decoupage just became limitless. Martha Stewart has expanded her multi-surface craft line to include a full line of decoupage products. Martha Stewart Crafts Decoupage products are so versatile for crafters like me who like to work with all types of medium. Available at Michaels Arts and Crafts stores, there are formulas for paper, metal, wood, glass and even fabric. It dries hard with no tack and it can be used for indoor and outdoor use. Included in the line are paper cut-outs, fabric die-cuts, lace trims and tools to make decoupage easier than it has ever been. These durable products can be used with the Martha Stewart Crafts Multi-Surface Paint line too. The glass formula is top-rack dishwasher safe. The fabric formula is machine washable, cool water, gentle cycle,  and all the formulas are water based and non-toxic with soap and water clean up. Martha has thought of everything!
I am working with the fabric decoupage products for my project today.  The fabric decoupage finishes come in matte and oil cloth. I have tried both and the oil cloth finish is simply amazing. You can make your favorite fabrics into glossy, water resistant oil cloth.  For today's project, I am using the matte finish, but you could use either depending on the effect you wanted. I am making no-sew applique hoop art. That's right. I said, no-sew. The fabric decoupage medium takes the place of all those tedious stitches.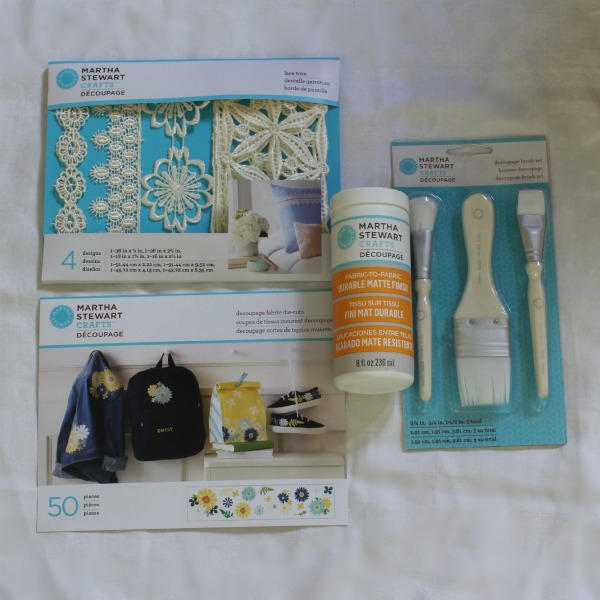 Supplies:
Martha Stewart Crafts ® Decoupage Fabric-to-Fabric Finish – Matte, 8oz
Martha Stewart Crafts ® Decoupage Fabric Cut-outs – Daisy
Martha Stewart Crafts ® Decoupage Lace Trims – Geometric Floral Ivory
Martha Stewart Crafts ® Decoupage Brush Set
Wooden Embroidery Hoops – Various Sizes
Scraps of Prewashed Fabrics to Fit Hoops
Felt
Scissors, Fine Tip Permanent Marker, Pencil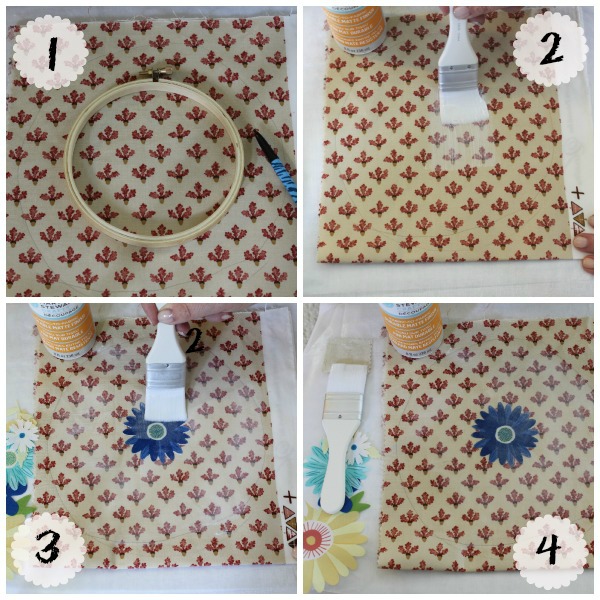 Instructions:
1. Pick a scrap of fabric for the background. With a pencil, trace a circle around the hoop that is several inches wider as a guide.
2. Using the 1 1/2″ flat brush cover the surface with a thin coat of durable matte finish decoupage medium.
3. Pick out a flower from the package of die-cuts. There are 50 to choose from. Apply a thin coat to the back of the fabric cut-out and place on background smoothing it out with the brush.
4. Brush a thin layer of decoupage onto a piece of linen or cotton fabric. This will be used for writing words and keeps the fabric from fraying when you cut it out later. Let everything dry for 1 – 2 hours.


5. Cut the fabric background out along the pencil mark guide. Place inside hoop and tighten screw while stretching fabric smooth.
6. With a permanent marker, write any word(s) you'd like to add on the scrap fabric previously coated with the fabric decoupage. Let it dry for a few minutes. Cut out word(s).
7. Apply a thin layer of fabric decoupage to the back of the fabric word and place down on background. Smooth into place and add another thin coat over the entire top. Let dry for 1 – 2 hours.
8. Turn hoop over and cut off all the excess fabric as close to the hoop as you can get.
9. Brush the back of the hoop with the fabric decoupage.
10. Place down on felt and let dry. Once dry, you can cut the excess felt away from the hoop.
***
If you are like me, you won't be able to stop at just one. Here are a few more ideas, but the sky is the limit here. In this next one I used the Martha Stewart Crafts ® Decoupage Lace Trims which come in some beautiful designs and can be used for pillows, table runners, etc.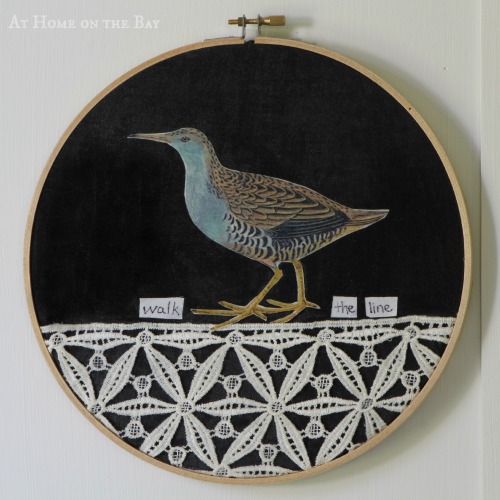 For this hoop art, I used a black background. I added the lace trim in step 3 (above) by applying a thin coat to the back of the lace, placing it on the background fabric, adding a thin coat over the entire circle and letting it dry before it was placed in the hoop. The bird was a digital scrapbook download that I printed on fabric. It was given a light coat of fabric decoupage along with the white cotton fabric used for the words. They were left to dry and added as in step 7 (above).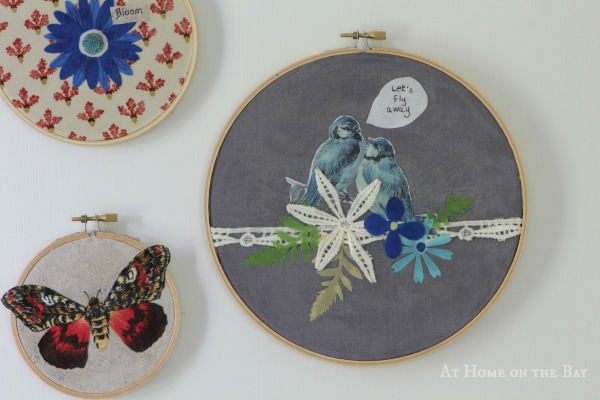 The butterfly hoop art is just a butterfly cut out of a piece of fabric. I applied the fabric decoupage medium to the butterfly adding a 1/4″ border and let it dry. Once it was dry I cut around the butterfly. This helps to keep the fabric from fraying. I added some antennas with the permanent marker. I love how the butterfly looks like it landed on the hoop.
For the love bird hoop art, I used a combination of the fabric die-cut flowers, the lace trims and a digital scrapbook download on fabric. I could have kept going. It was that much fun.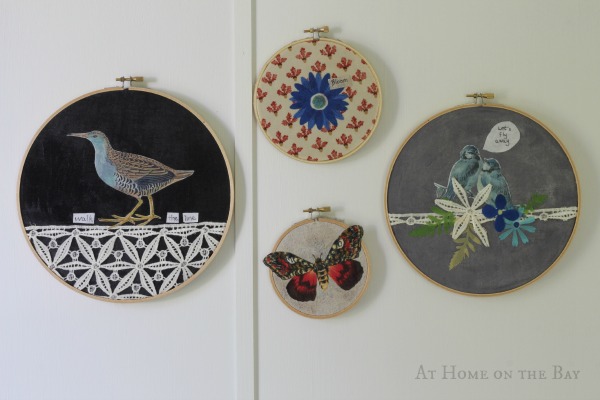 Thanks for letting me play with your new line of fabric decoupage, Martha! It was so much fun for me. You can get the latest on Martha Stewart Decoupage from Plaid here
Facebook * Twitter * Pinterest * Blog

Sharing with:
Looking for more Martha Stewart Decoupage craft ideas. Check out the links below. More will be added over the next few weeks.