As soon as I saw you, I knew an adventure was going to happen.
-Winnie the Pooh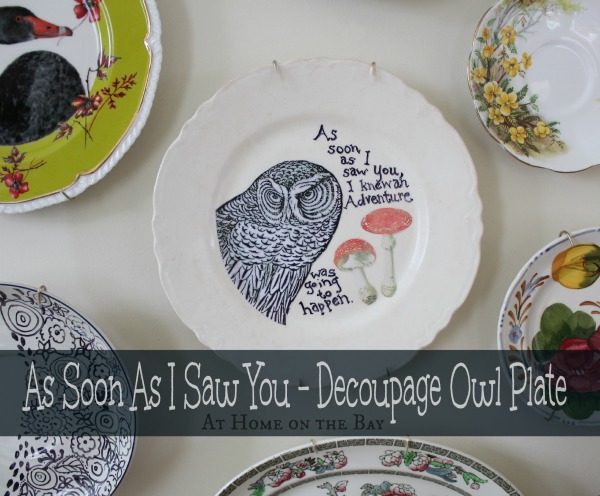 There are so many great quotes about love and friendship in A.A. Milne's classic, Winnie the Pooh. This quote is right up there as one of my favorites.
I had so much fun making the no-sew applique hoop art with Martha Stewart's Decoupage and digital bird downloads that I thought it might be fun to try it on a plate. I found some cute instant digital downloads on Etsy (links above). I printed them with a laser printer. If you use an inkjet printer you may have some bleeding of colors when you brush on the decoupage medium. Print them in sizes that will fit your plate. I printed mine in the 4″ x 6″ size.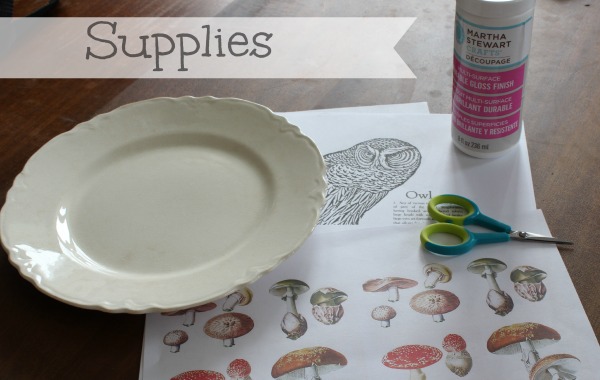 Supplies needed:
White plate
Martha Stewart Crafts ® Decoupage Multi-Surface Finish – Durable Gloss, 8oz
Sharpie Fine Point Permanent Marker – black
Vintage Owl – digital download
Vintage Mushroom – digital download
Scissors
Step 1: Prepare the plate (I found this ironstone plate at a yard sale for $1.) for decoupage by washing it and then wiping it with alcohol. Let dry. Cut out the owl head and mushrooms. Cut a curve in the owl's neck to fit the curve of the plate.
Step 2: Brush a thin layer of decoupage medium onto the plate and then onto the back of each cutout. Place cutouts on plate and smooth out any air bubbles. Brush a thin layer of decoupage onto of the plate and let dry for a few hours according to directions.
Step 3: When plate is dry add words to plate with the Sharpie. Let the words dry for two hours and finish with another thin coat of decoupage. Let the second coat dry for two hours.
Hang on wall.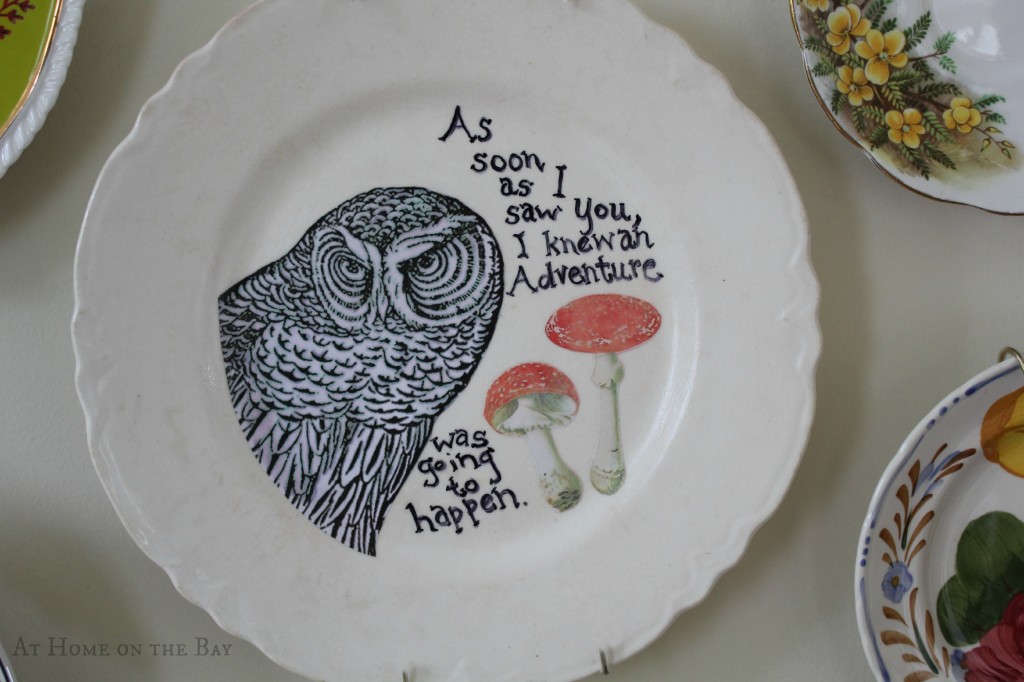 Note: This plate is for decorative purposes, so I didn't add any extra coats of decoupage, and I didn't worry about curing it for 21 days.
I really love it's whimsical feel.