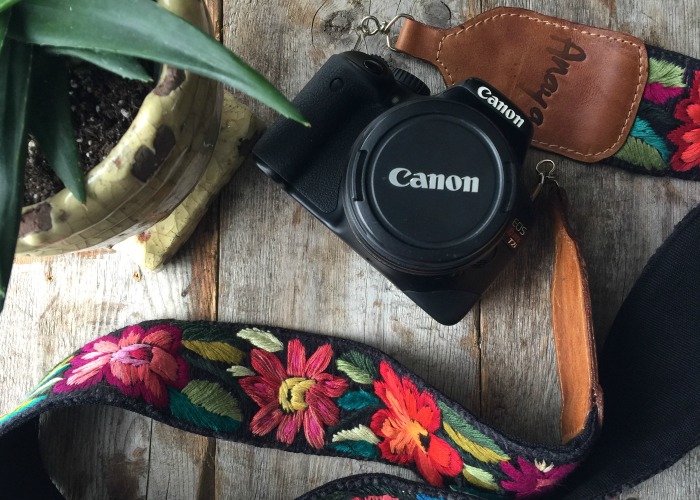 You know how they say no news is good news?  Well …
The last time I was here was a year ago. My last post was an Easter table setting. It seems like forever, but it also seems like yesterday. I had mentioned in my Hello 2016 post that I just wasn't "feeling" up to blogging much. I had lost interest in something that I enjoyed for years. I didn't realize it then, but it was a symptom that my thyroid wasn't working very well.
It was just about a year ago that our son, who was still living in Boston, was going through a tough time and he decided he wanted to come to Cleveland to live with us. We thought that was a great idea and I got to work cleaning out my office, which was turning into a junk room anyway, and guest room to give him some space of his own. He moved in with us at the end of May. At the end of June, I had what I thought was a gallbladder attack, but it turned out to be a perforated appendix.  I ended up having my appendix out at the end of July. I hadn't been feeling very well all year, but I had so many distractions to keep me from thinking about it. I thought that it must have been my appendix that was bothering me all along. But I didn't feel better after it was out. By the end of the summer, my doctor was ordering all kinds of tests and blood work. To make a long story short, I was diagnosed with thyroid cancer in the fall. I had my thyroid out in November. It took several months to recover from that surgery. So needless to say,  last year totally got away from me.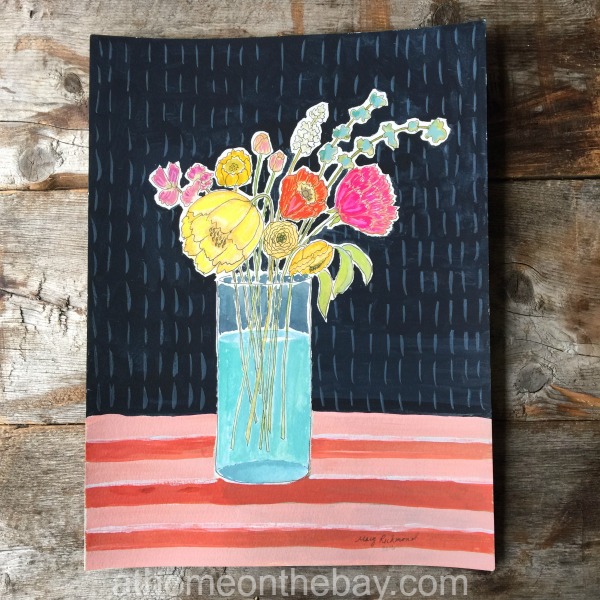 I am just now feeling back to my normal self. One of the things that kept me busy while I was recovering was painting. It was something fun to do when I didn't have much energy. My favorite medium is watercolor and gouache. Above is one of my favorite paintings. You can see more of them on Instagram. I've been accumulating so many different paintings that I decided to open up an Etsy shop to sell prints and some originals. The shop opening date will be April 24th. It feels good to be creating and active again.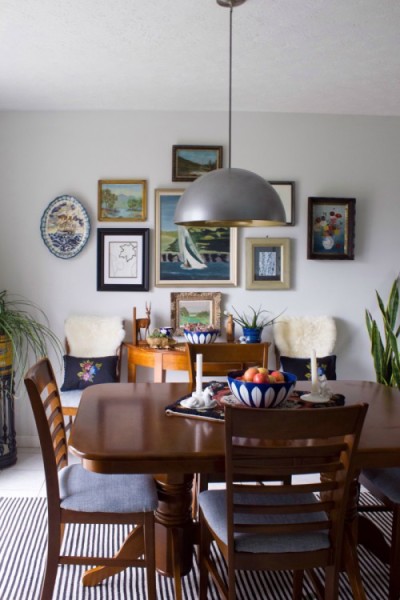 One fun thing that happened recently was our house was featured on Design Sponge. You can see the tour here.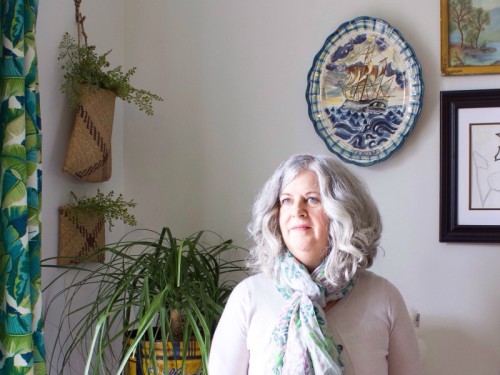 And it took 18 months to grow out, but my hair is now it's natural gray color.
Also, I did not get to Maine last year. Not even once. I did get there for New Years Eve and the last time I was there was the previous New Years. We are actually thinking of selling our home in Maine since it is really hard for us to get there now.
I think I've updated you on all that has happened around here over the last year … the highs and the lows.
I'm sorry I abandoned the blog, but I had the terrible brain fog that goes along with thyroid problems and had so much trouble writing. It really felt like an impossible task. I'll be updating the blog a little and adding the Etsy shop information shortly.
Happy Easter friends!