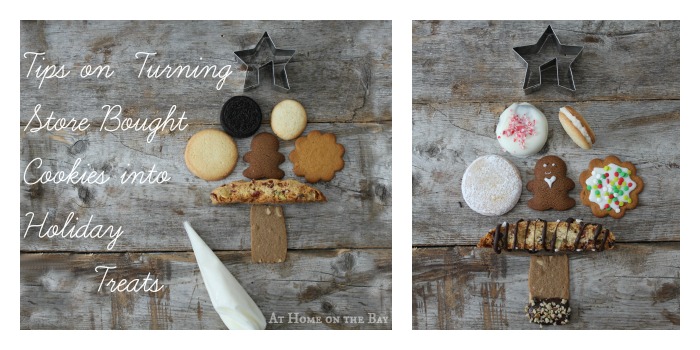 Tips for Turning Store Bought Cookies into Holiday Treats
Why does it feel like the holidays sneak up on me every single year? I have all good intentions of doing everything just right – the decorating, the lights, the tree, the gifts, the wrapping, the food, and the ever loving cookies. I make lists and cross things off, but no matter how organized I am, when it gets down to the final weeks there is never enough time.  If you have holiday cookies on your list and run out of time, have no fear. I am here to give some tips on making those store bought cookies look like amazing holiday treats that even the most discerning cookie connoisseur will enjoy.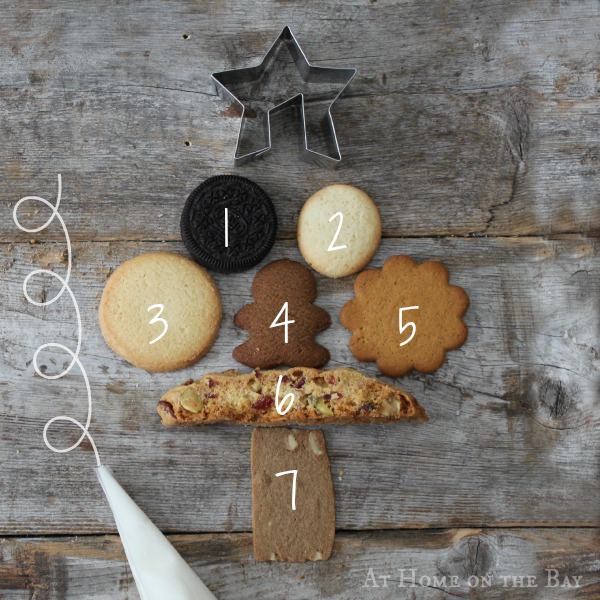 The key to making store bought cookies look like holiday treats is simple, and you may even have the ingredients in your cabinet – confectioner's sugar, sprinkles, nuts, chocolate chips and candy melts. They are the same ingredients that make homemade cookies all fancy for the holidays, but without the hours of baking. Don't tell anyone else. This is our little secret. Okay?
1. The Oreo Cookie – Dip these cookies into white chocolate candy melts. The candy melts can be found at craft stores. Place the candy melts in a microwave safe bowl and melt according to package directions. Using a spoon dip Oreo in melted candy, place on wax paper, sprinkle with crushed candy canes and let harden for a few hours.
2. The Vanilla Wafer – These cookies can be made into sandwich cookies by placing frosting or Nutella between two rounds. I made an orange filling by following this orange frosting recipe.
3. The Pecan Sandie – Nothing could be easier than dipping a cookie in confectioner's sugar and that is all you need to do with this one.
4. The Gingerbread Man – follow this recipe for Sugar Cookie Icing from Food.com. Place the icing in a baggie and clip the corner. Decorate gingerbread men as you wish.
5. The Ginger Thin – Use the same icing as for the gingerbread men, but add sprinkles. My grandson loved these.
6. The Biscotti – Melt chocolate chips and drizzle over the biscotti.
7. The Almond Thin – Dip one end of these cookies into melted chocolate chips and sprinkle with chopped nuts.
Put some of these on a tray and bring them to a party and everyone will want to know your secret. You could even pack them up in boxes and give them to your mailman, a co-worker, neighbor, the boy who shovels your walkway or anyone you think needs a little holiday cheer.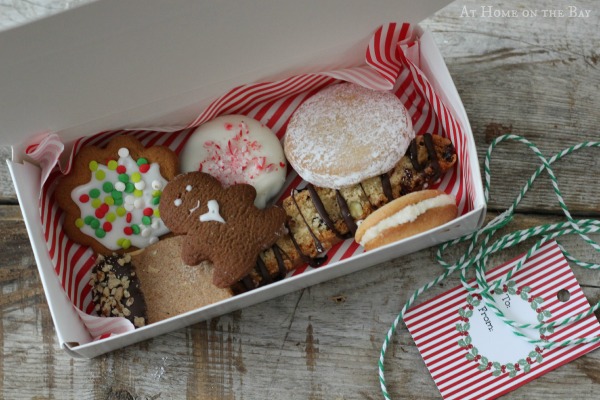 There is no one who loves and appreciates a home baked cookie more the yours truly.  I personally tested each of these cookies (several times) to make sure they were worthy of eating. My hips don't lie.

P.S. The free printable gift tags can be found here.