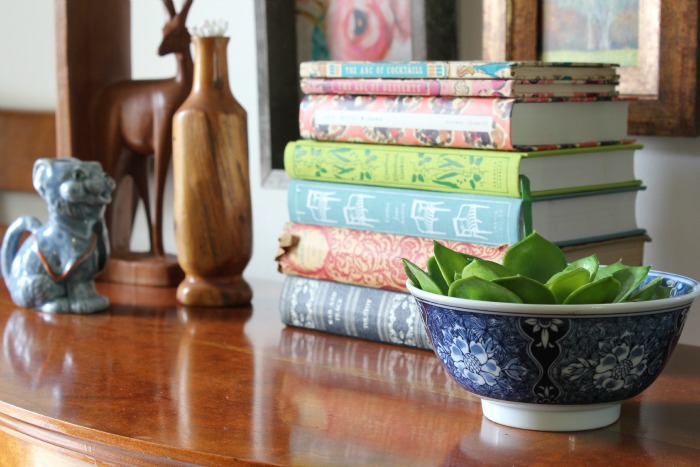 Fall Dining Room Tour
I am using the word fall loosely here. There isn't really anything that screams fall here except a few apples and you can get those any time of year. But I did do a little refresh in this room and it happened to happen in the fall. I do think the room has a bit of a fall vibe with its richer colored accessories and warm wood tones. I do hope you agree.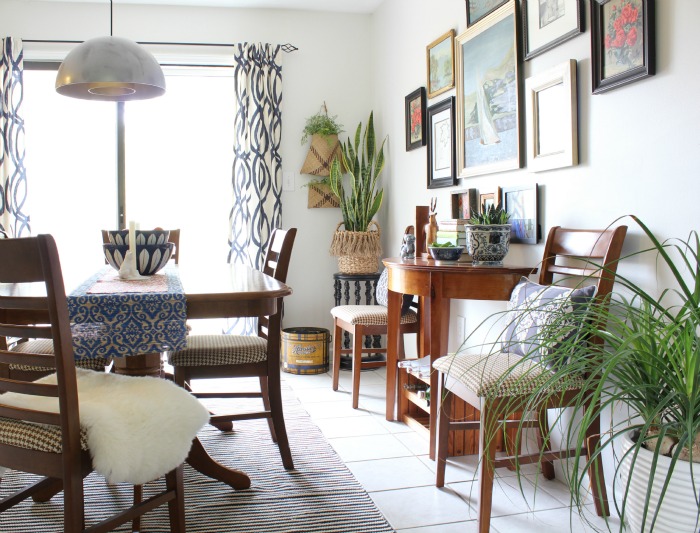 I added some plants over the last several months. I picked them up at Lowes. They are from their plants of steel line, and I have been able to keep them alive. Shocker. They only require a cup of water every two weeks, and since regular watering is my weakness, they are perfect.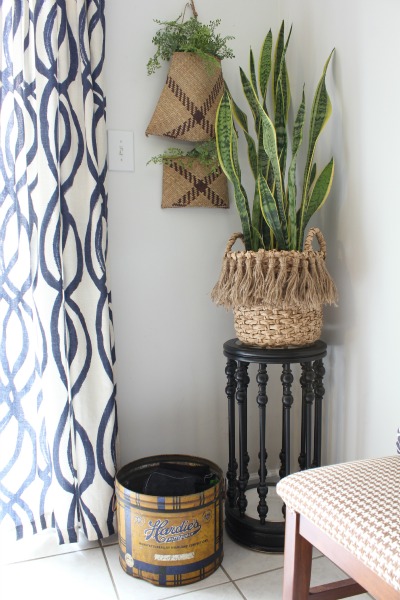 I picked up the woven baskets on the wall at an estate sale in Maine for .50 cents. I did have real ferns inside them, but they weren't plants of steel, so they died and I replaced them with faux plants. I have three real plants in the dining room and three fake plants now. I bought my faux plants from the local florist.  They were a little more expensive, but they also look more real. I bought that tin bucket from Jen at FleaMarketFab's yard sale. We store our grill gloves and wood chips for the smoker/grill that is just outside on the back deck.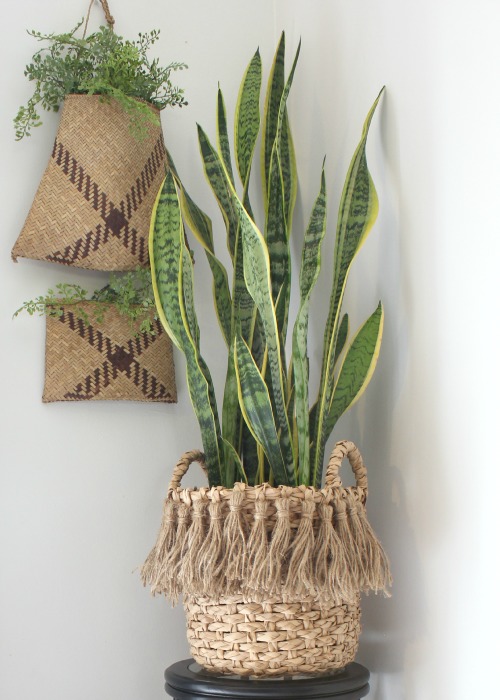 I updated a plain basket by adding some jute tassels. I made them by wrapping jute around a 4″ piece of cardboard about 15 times. (I used a tutorial from Creative Bug, but you can probably find a similar tutorial on Youtube.) Then I tied them around the top of the basket. There may or may not have been jute dust all over my clothes when I did this project. The crazy is in the details folks.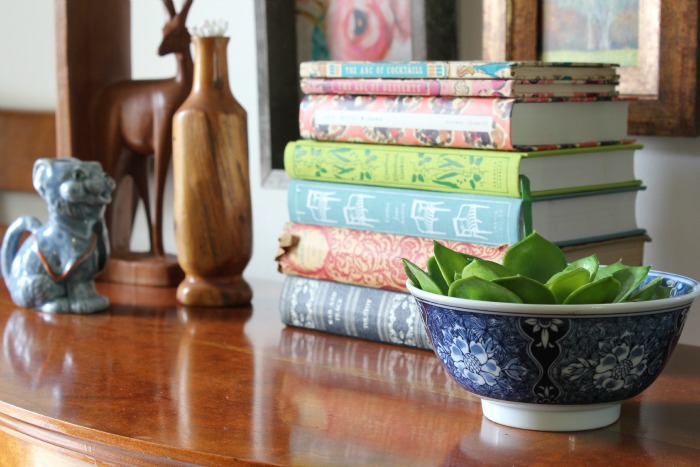 I added some warm wood elements, blue ceramics and colorful books to the side table.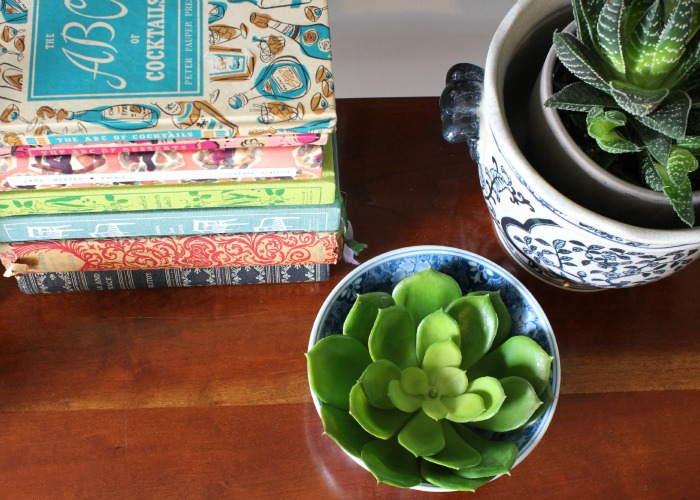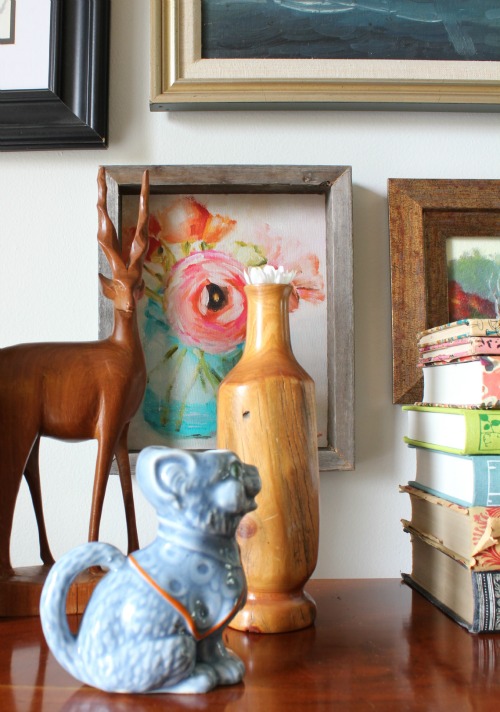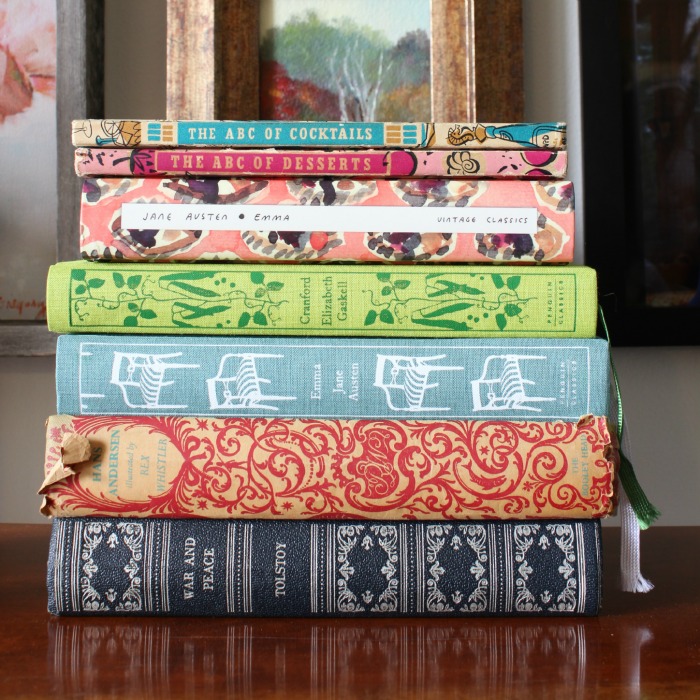 Can you guess that I love the colorful books?
Here is a side view. I added a few more pictures to the wall including a cherished picture of my dad that my brother gave me recently.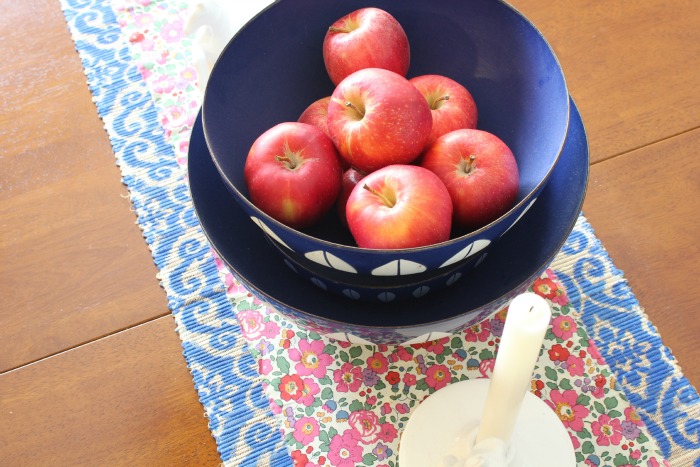 I'll leave you with the bowl of apples since this is my fall tour. I did eat several of them before I took the photos.  They were so good. I love fall!
Enjoy Your Day!