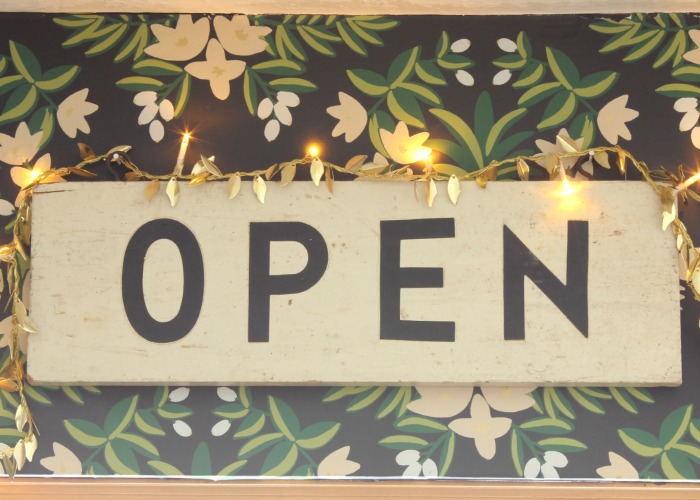 I have been holding back sharing the kitchen for a while. The truth is it isn't perfect. It isn't a show piece. It has flaws. It doesn't have white cabinets, wood floors, stainless steel appliances, or beautiful lighting, and it is super small. But guess what?  I love it. I do. I am actually one of the few people left that love wood cabinets. Well, let me rephrase that. I love nice wood cabinetry. We were lucky. The previous owners installed high quality Kraftmaid cabinets sixteen years ago and they are still in great condition. The appliances are not new, but they work (thankfully). I've embraced the counter tops and the dome lighting (for now). Those are the two things that I would love to change one day. For right now, I have embraced all its imperfections, and I've fallen in love with it.  So, let's go on that tour.
The Kitchen is Open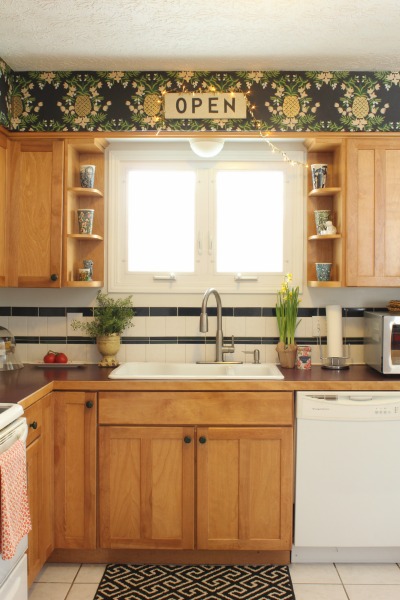 Here is what we have done since we moved in. Cleaned – I washed the cabinets with Murphy's Oil  Soap, and gave the appliances a good cleaning. We installed a new and badly needed faucet. This one is from Home Depot.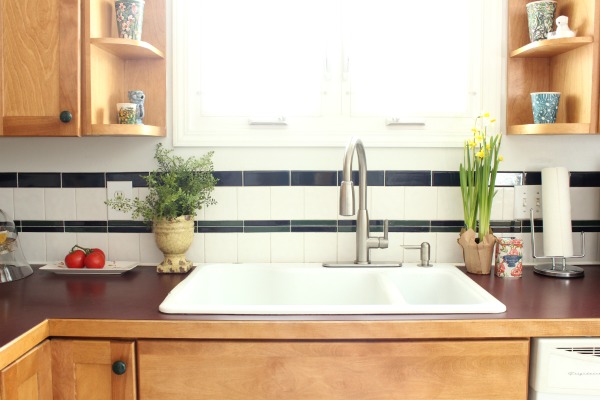 The wallpaper is Pineapple in ebony from Hygge and West.  I scored one of their grab bags back in October. One almost full roll each of five different wallpapers for $100. This was one of them, and I was able to paper the soffit and bar counter wall with one roll. I have plans to use another roll (Peonies in mint) in our laundry room.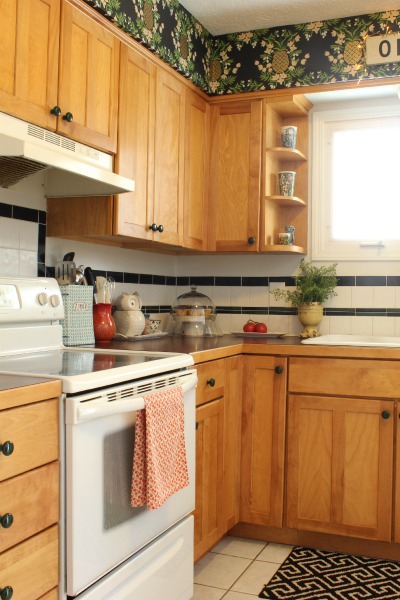 I was so close to ordering new modern style drawer handles and pulls, but after the wallpaper went up, I didn't mind the dark knobs anymore. I will live with these for a while.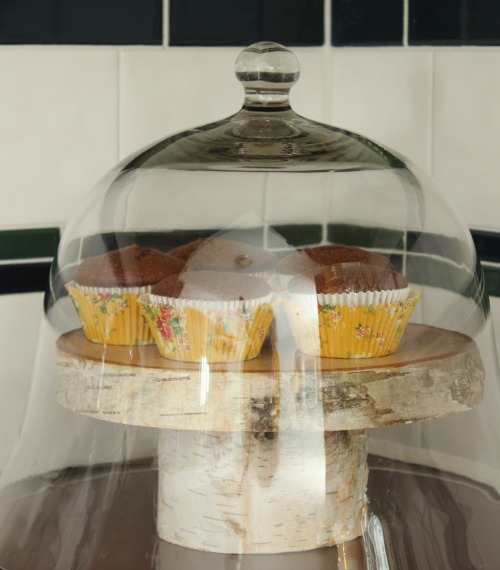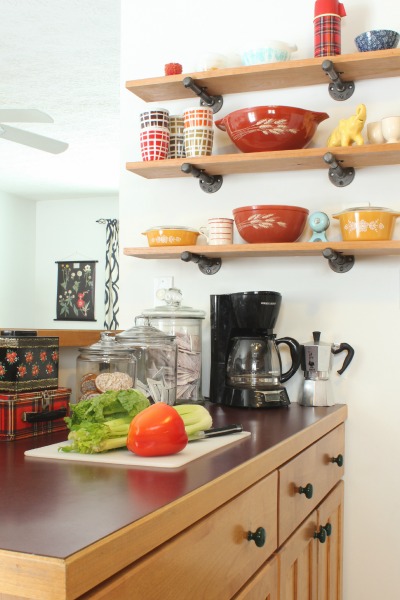 industrial style shelving tutorial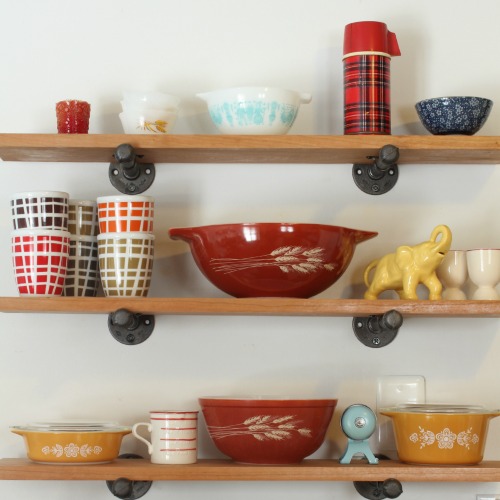 The ceramic amour book is actually a vase, but I am using it for utensils, because I am a rebel like that.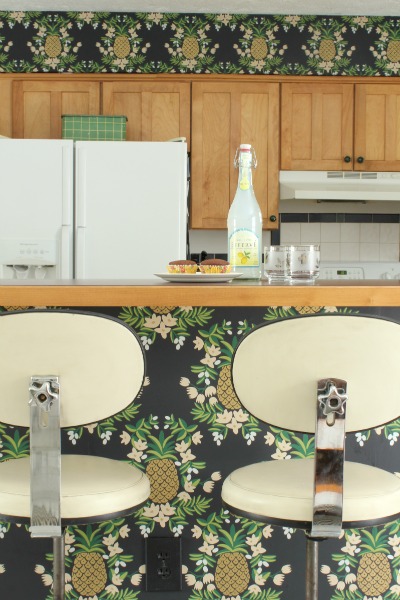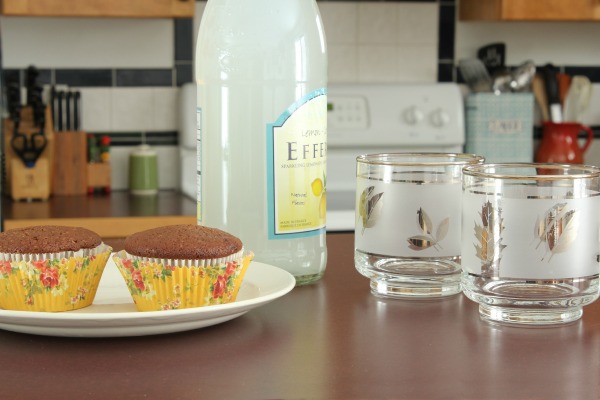 I scored these glasses for .50 cents each (there were 8) at the local Goodwill.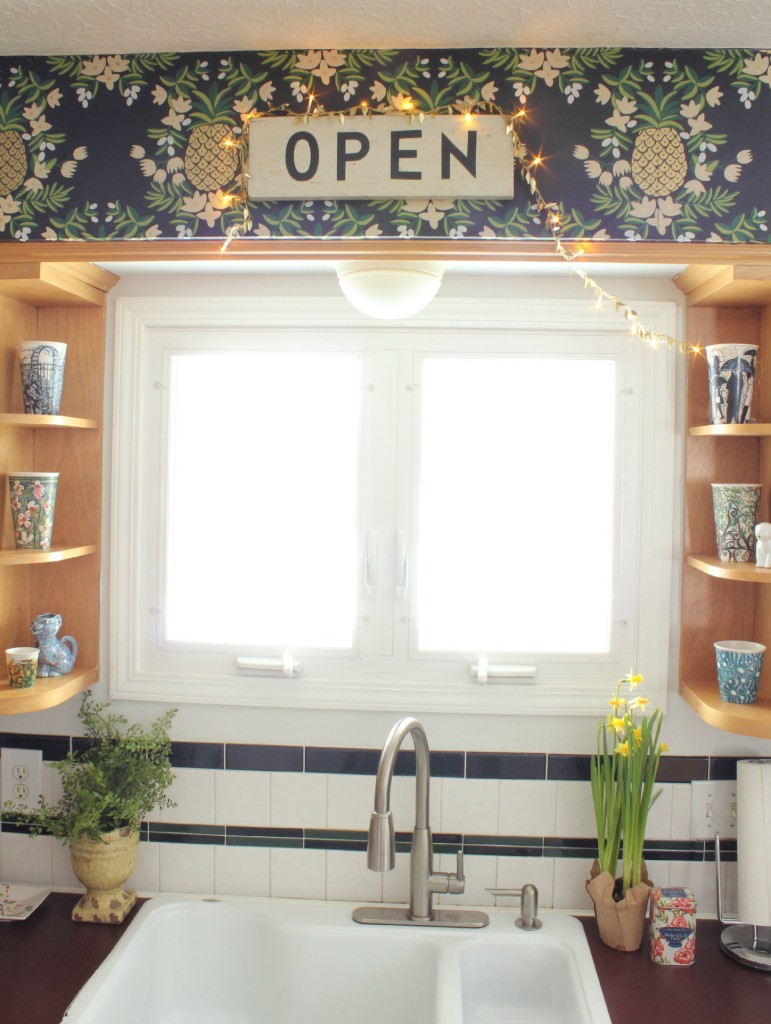 I added my ceramic sketch coffee cup collection by Gwyneth Leech to the shelves. They are on sale at Anthropologie with an extra 25% off right now. Ugh, and I paid full price, because I loved them so much.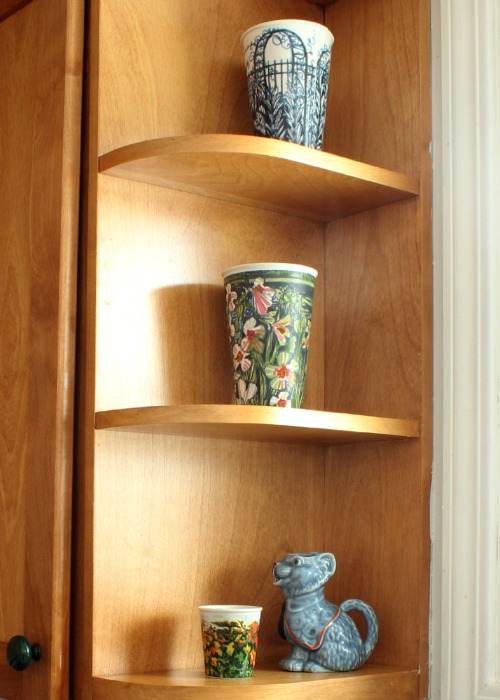 My tips for embracing an imperfect kitchen:
1. Keep it clean. A clean kitchen will make you feel all warm and fuzzy.
2. Add live plants, herbs, or flowers. They will make your heart sing.
3. Add accessories that you LOVE.
4. Fresh baked goods at the ready will add a welcoming smell to the kitchen.
5. Fresh fruit goes a long way too.
6. Put away appliances you don't use very often to add more counter space for the plants, baked goods, and fruit.
7. A pretty kitchen towel (one that makes you smile when you look at it) is a must.
8. Don't be afraid to use your favorite vases and pitchers as utensil holders.
9. (This may be the most important tip.) Don't point out everything that is wrong with your kitchen when company visits.  I wish I learned that one a long time ago. 😀
So that is my budget friendly kitchen. It is colorful, quirky and imperfect just like me.