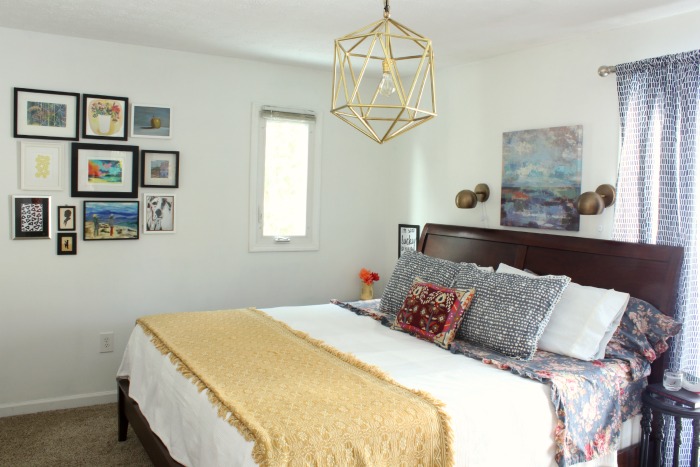 This room has been a while in the making, but I think it is finally done. I hesitate to say it is completely finished, as I am always open to a little change. For instance, if I win the lottery, then maybe I would add some wood flooring. Or, if someone asked me if I wanted their small mid century modern night stand in place of the temporary plant stand on my husbands side of the bed, I'd be open to that.  You know what I mean. Little things like that could change.
Colorful Eclectic Master Bedroom Reveal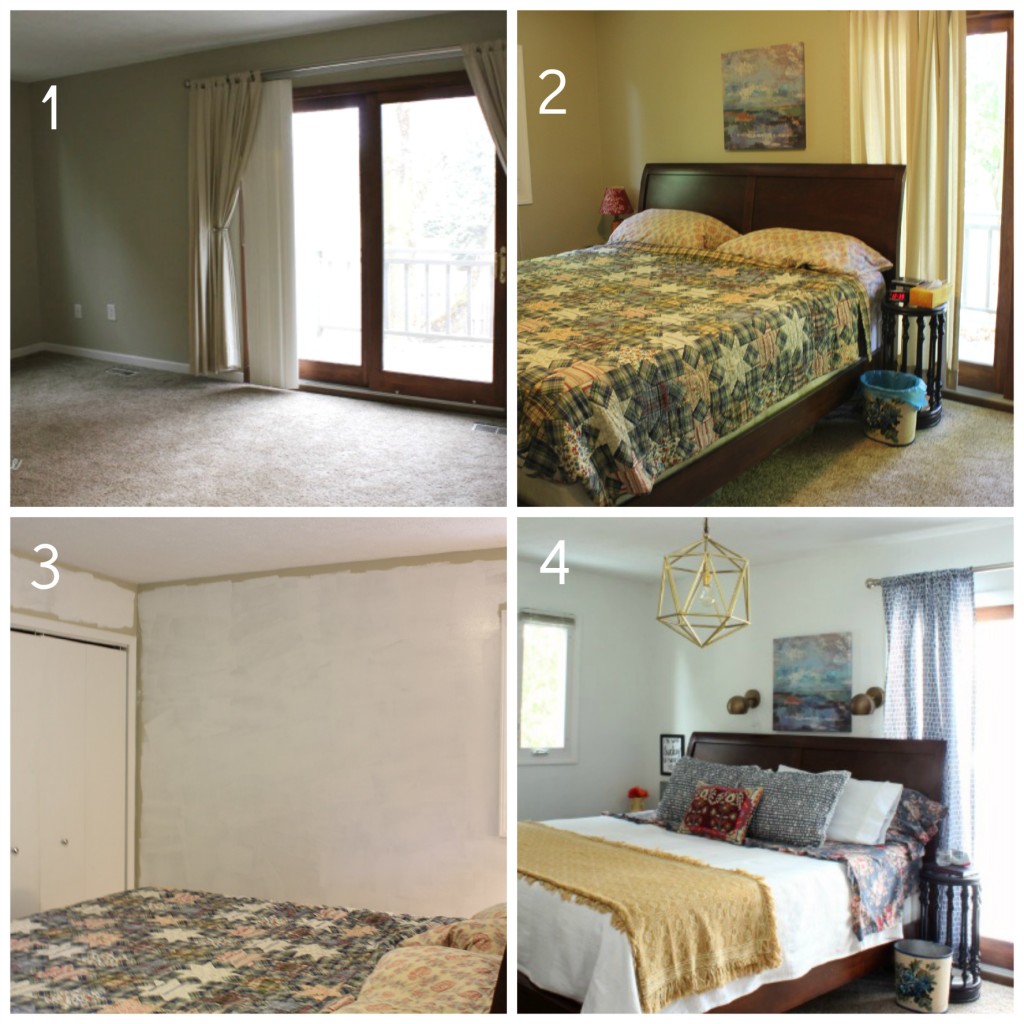 Let's start with where we came from. (1) In the first picture (from the day we moved in), we have khaki colored walls and vertical blinds. It was a bit dark and dreary and felt claustrophobic. (2) In the second picture, we figured out the best placement for our king sized bed in this tiny room and then I quickly took down the vertical blinds. (3) In the third picture, I got out the paint cans, and painted the walls white. What a huge improvement. This was just after one coat. You can still see the khaki color, but the new color really brightened the room up. (4) In the fourth picture, we have the finished room. It actually feels bigger even though we all know it isn't.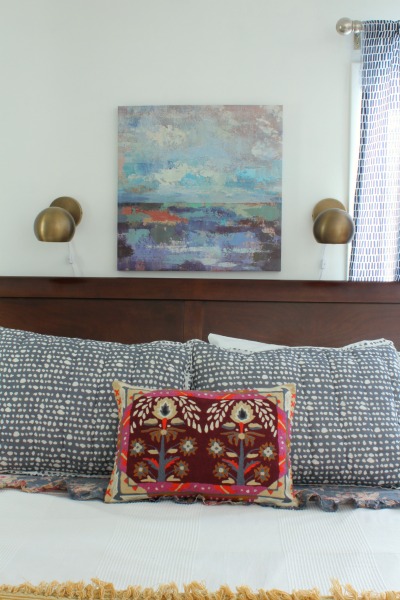 My big splurge in this room was the lighting. My husband replaced the dome ceiling light with this modern pendant light. He also added the sconces above the bed for reading.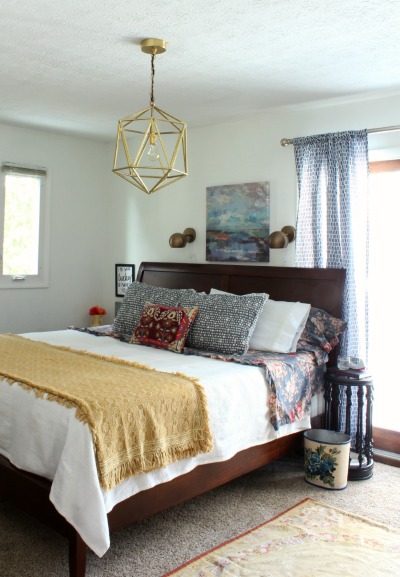 What would a room in my house be without a gallery wall? Boring, in my opinion. I will share more on this gallery wall in an upcoming post.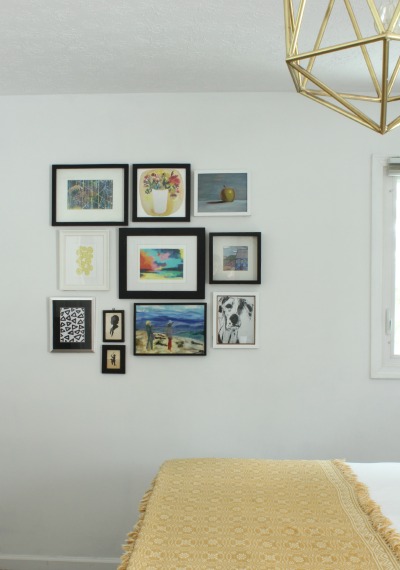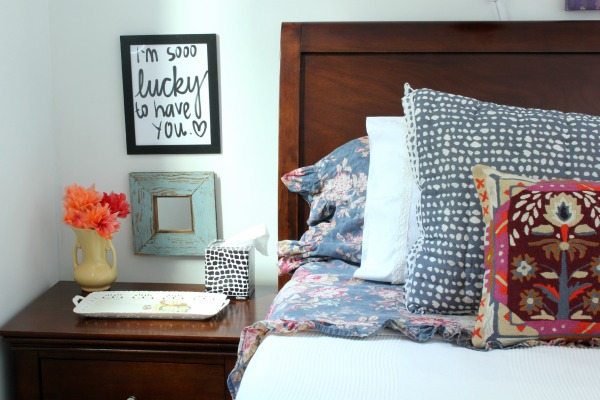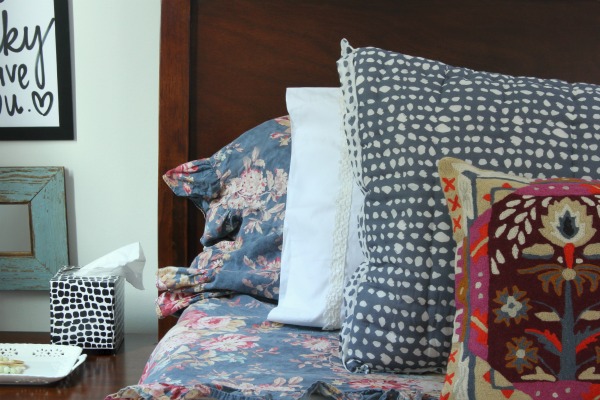 Something old, something new and something DIYed.
The bedding is from Ralph Lauren. It's the Kimberly pattern and I've had it for years and years along with the vintage bedspread. The shams and accent pillow are new.  The white lace trimmed pillow case is from this tutorial.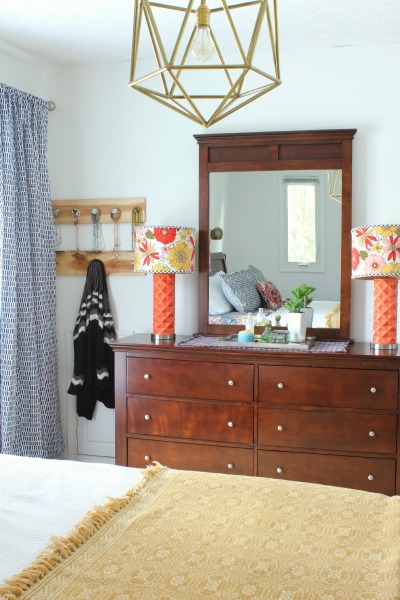 Here is the other side of the room. The lamps were bought at the Cleveland Flea Market. The tutorial for the lampshade update is here.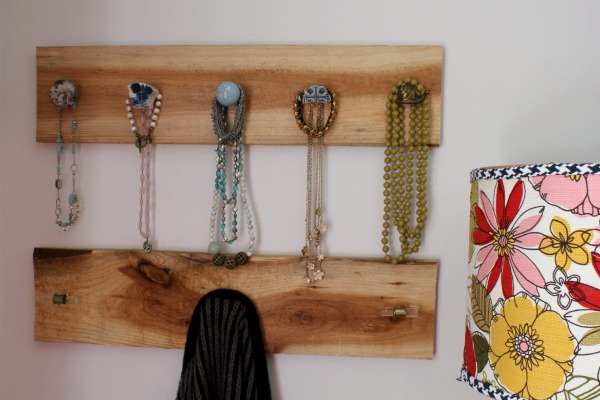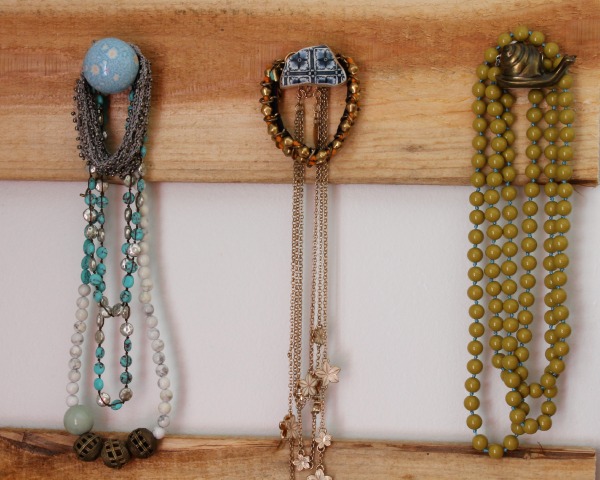 My husband made me the peg rack jewelry holder/coat rack with Anthropologie knobs and rough sawn cedar wood. We made a similar one here.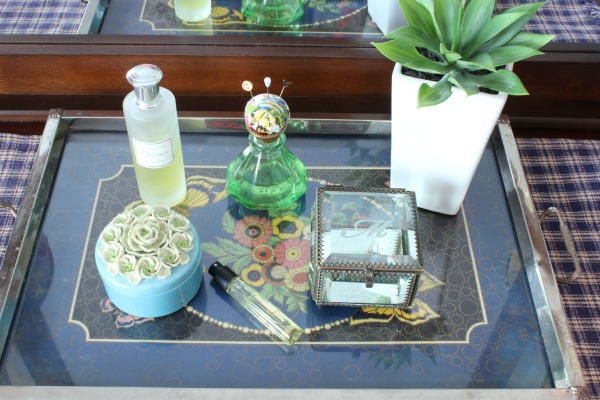 The tray is vintage.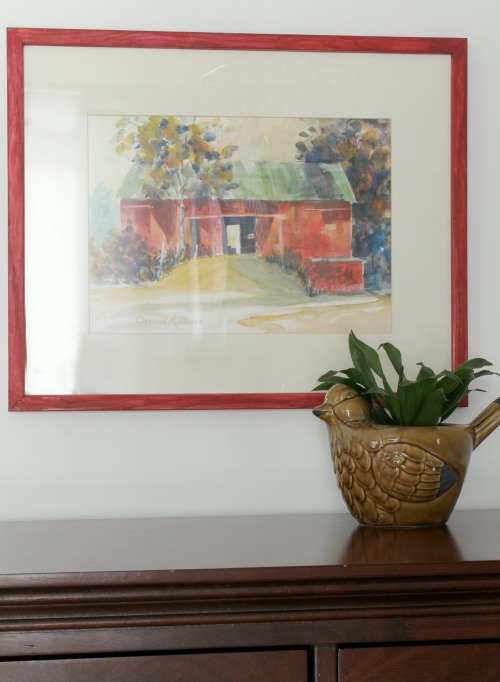 I found the watercolor, done by a local artist, at a consignment shop. It hangs over my husband's bureau.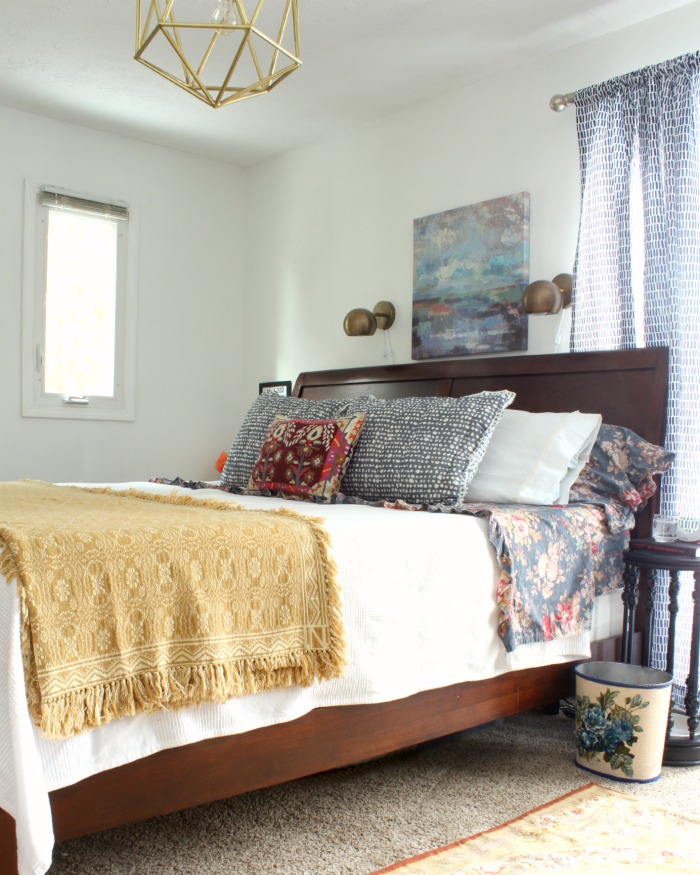 My mother-in-law made the fabric covered trash can about 40 years ago. I have always thought it was so pretty.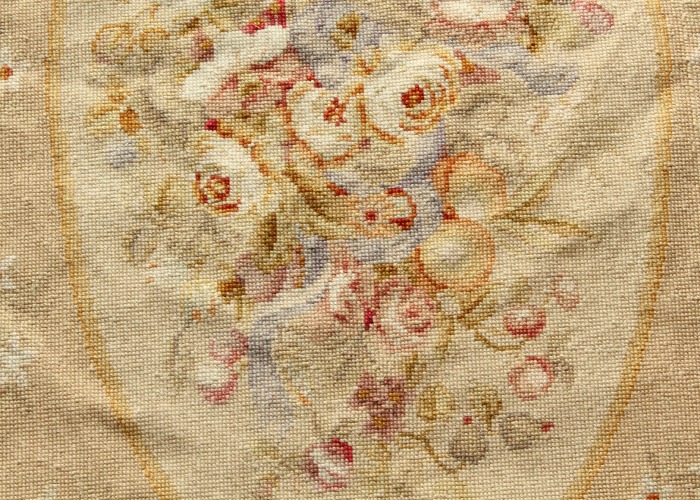 The rug came from a yard sale. It was handmade by an aunt of the woman having the yard sale. She felt bad about selling it. It wasn't her style, but she wanted to make sure it went to a good home. I promised her I would take good care of it and display it proudly. I have a soft spot for handmade items.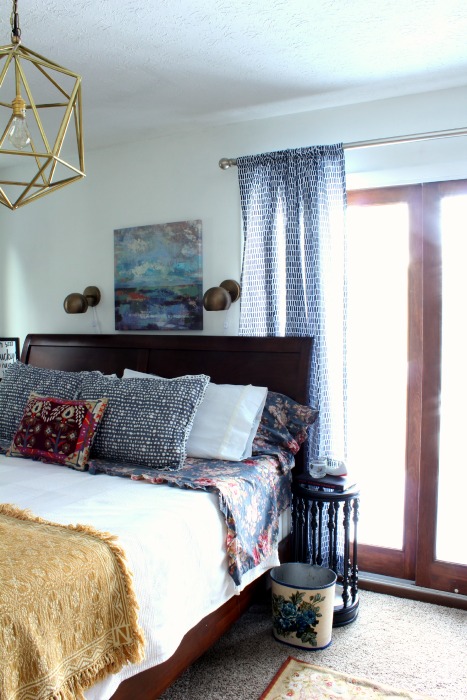 Here are all the sources:
Paint – Pure White from Sherwin Williams
Curtains – Chesapeake Sketch Curtain Panels from Target
Pendant Light – Euclidean Pendant Light from Anthropologie
Sconces – Eyeball Sconces from Urban Outfitters
Shams – Witherbee Shams by Lulie Wallace from Anthropologie
Accent Pillow – Kilim Crewel Pillow from Anthropologie (no longer available)
Rug – yard sale
Jewelry Peg Rack – tutorial
Lamps – flea market find
Lampshades – tutorial
Lace Trimmed Pillowcase – tutorial
Gallery Wall – separate post to come