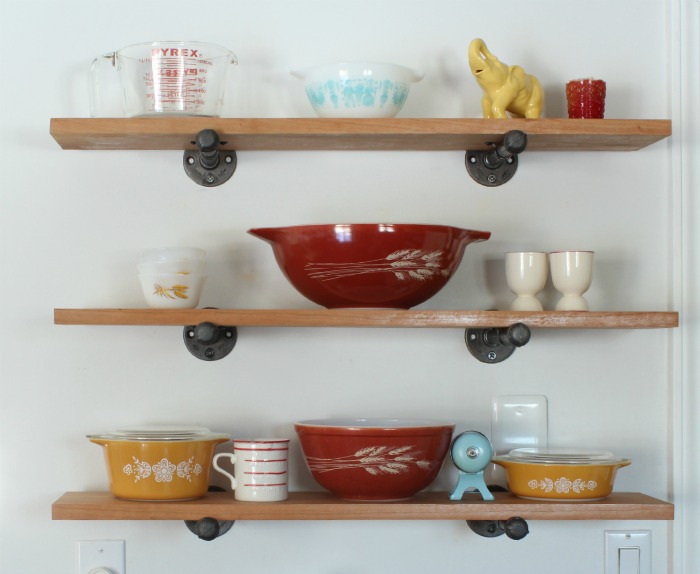 Adding Industrial Style Shelves to the Kitchen
In my book, the definition of a weekend warrior is someone who goes to Home Depot more than twice in one weekend. Last weekend, we were weekend warriors.  We decided to put up some shelves in the kitchen, and after looking at several styles, we settled on a Restoration Hardware style DIY. We found the tutorial on Seventh House on the Left. We made our list of supplies we needed, and off we went to Home Depot. On our first trip, we bought the plumping pipes and some screws for drilling into the studs.  We thought we had everything else we needed at home already. We began the project with my husband working on making the brackets out of the pipes, and I was going to spray the shelves with a light coat of polyurethane. That is when I had to make the second trip. The can of polyurethane was almost empty. I didn't have enough to finish the job.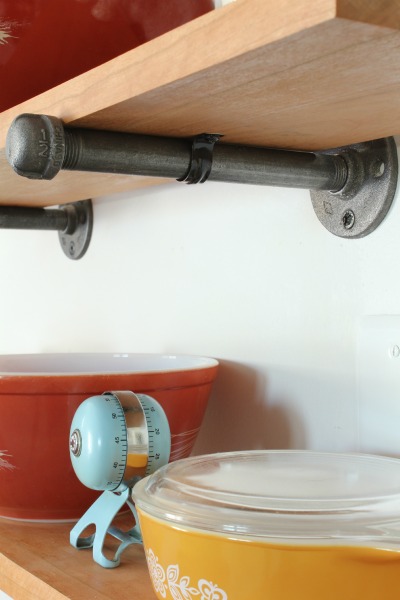 The only thing we did a little differently from the Seventh House on the Left tutorial is we decided to secure the shelves to the pipes, which sent us back to Home Depot for the third time. We did this with 1/2″ copper pipe brackets (two for each shelf), 1/2″ wood screws (two for each bracket) and black spray paint. We spray painted the pipe hangers and heads of the wood screws with black spray paint and once they were dry, attached them under the shelves. As you can see (above) they are barely noticeable and since we have heavy dishes sitting on them we wanted to make sure everything was secure.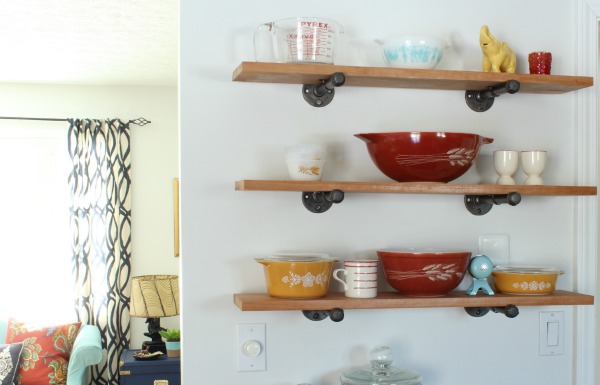 For now, I have some Pyrex pieces that I use a lot on the shelves.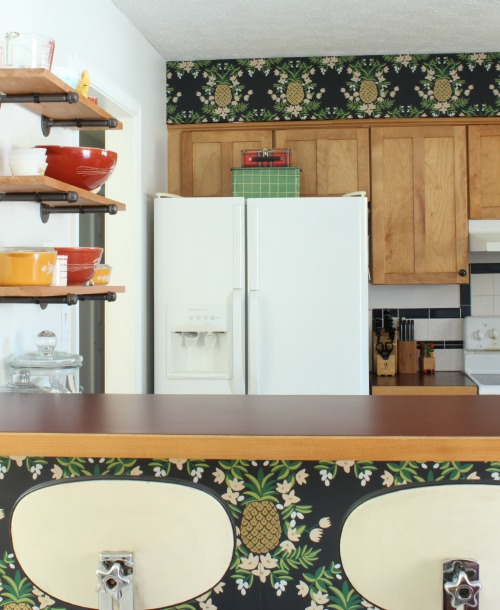 Here is a side view and a sneak peek at the kitchen. Hopefully, I can get it together and  take pictures of the whole room this weekend.
Enjoy your weekend!