Fresh Corn Salad –
My sister-in-law is from the Nebraska corn belt, and she has all the best corn recipes. She made this salad for a family gathering and I've been making it ever since. It is perfect for leftover ears of corn on the cob, but I've been know to buy ears specifically to make this recipe. Either way it is a fresh mix of summer garden vegetables with a light oil and vinegar dressing. It couldn't be any easier, and it is oh so yummy.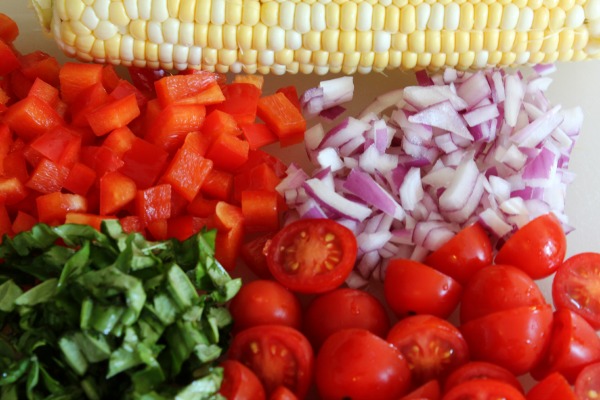 Do you have a trick to boiling corn on the cob? I've been using this technique and it hasn't failed me yet. I boil enough water to cover the ears of corn and add a tablespoon of salt (I know. It sounds like a lot.) to the water. Bring the water to a boil and add the corn. Boil for 5 minutes. Drain water and serve, or cut off the cobb and make this delicious fresh corn salad.
Fresh Corn Salad

Print recipe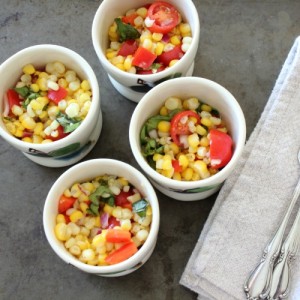 Ingredients
6 ears of corn (boiled and kernels cut off)
1/2 bell pepper (any color) (diced)
1/2 red onion (diced)
1/4 cup fresh basil (chopped)
1 pint cherry or grape tomatoes (cut in half)
1/4 cup olive oil
2 tablespoons white vinegar
salt and pepper (to taste)
Directions
| | |
| --- | --- |
| 1. | In a large bowl, toss together ingredients until well combined. Add 1/2 teaspoon salt and 1/4 teaspoon of pepper. Adjust seasoning to taste. |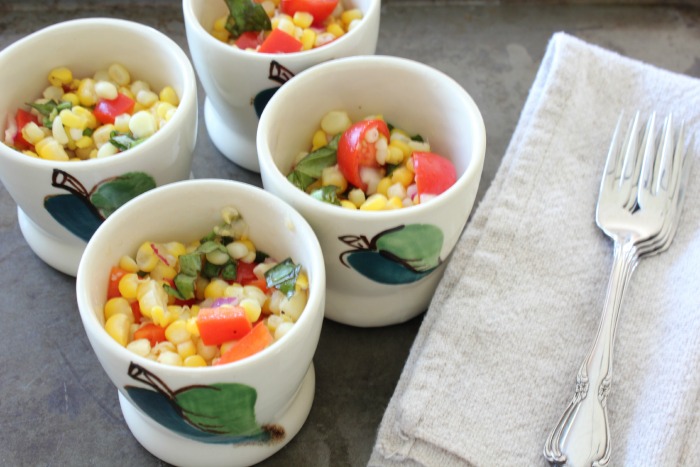 It's yummiest if you make the night before and let it marinate.