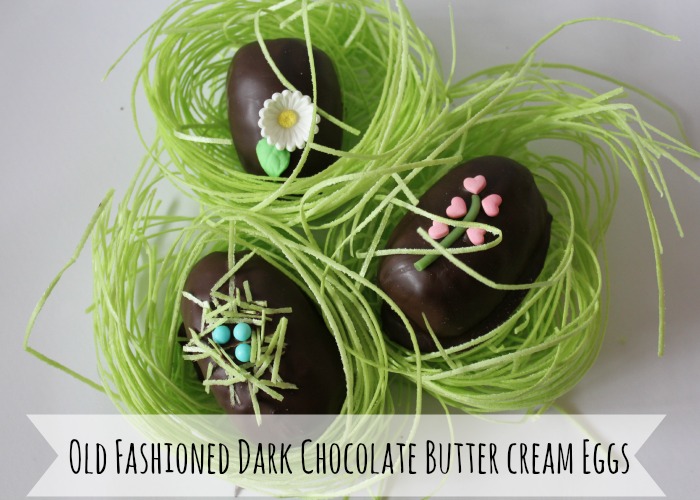 Old Fashioned Dark Chocolate Butter Cream Eggs
When I was a kid, every Easter my brothers and sister and I would look forward to the large Dark Chocolate Butter Cream Egg that we got to share. It was so sweet and buttery and we all have fond memories of eating slices of that yummy goodness together. My mother bought the same one every year. It had a yellow butter cream "yolk" center and somehow we all thought it was the best part even though it was the same flavor as the white butter cream. I have not been able to find the butter cream egg with the yellow center for years, and it is so disappointing. But have no fear, today I am sharing a simple recipe that recreates this delectable treat without too much work.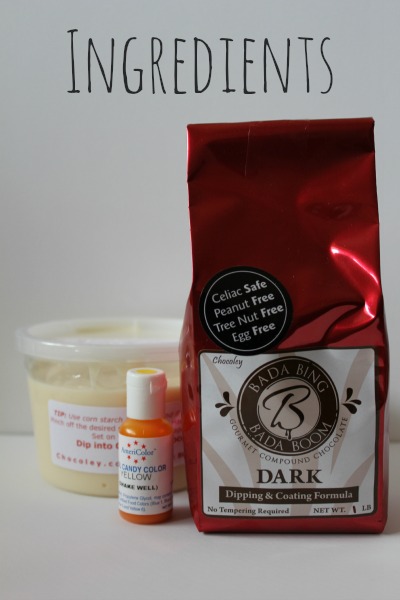 The key to this easy recipe is in the ingredients  – ready to dip butter cream, yellow candy coloring and gourmet compound chocolate that doesn't need tempering. All ingredients are from Chocoley.
1 pound bag of Bada Bing Bada Boom Dipping & Coating Formula – Dark
1 pound tub of Butter Cream – Cream Center
2 ounce bottle of Yellow Chocolate Coloring Oil
Makes 3 large eggs.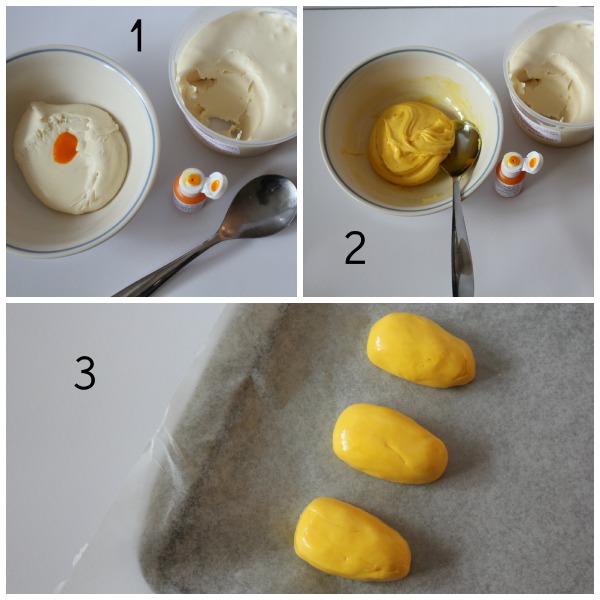 1. Remove 1/4 of the butter cream from the tub and place in a microwave safe bowl. Microwave for 15 seconds on 50% power to soften the butter cream. Shake the bottle of yellow candy coloring. Add several drops of the candy coloring to the bowl of softened butter cream.
2. Mix thoroughly. Add more candy coloring (if desired) a few drops at a time until desired color is achieved.  Set aside for 20 minutes or until it is no longer soft.
3. Form yellow butter cream into three egg shapes. Place on wax paper covered cookie sheet. Refrigerate for 15 minutes to harden.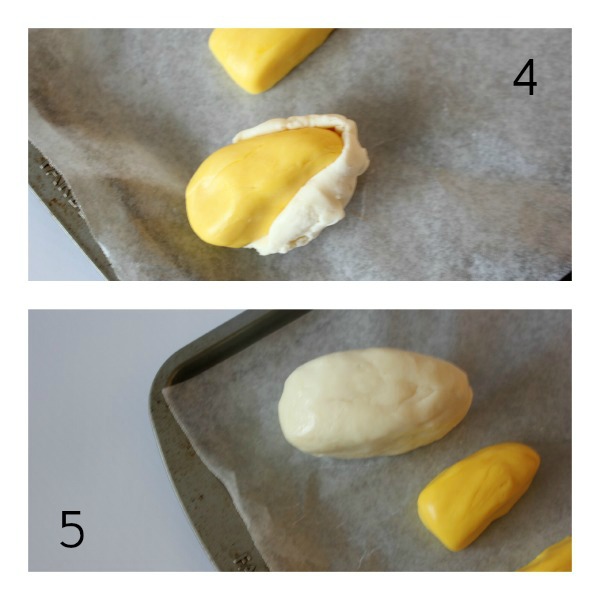 4. Divide what is left of the white butter cream into 3rds. Evenly cover each yolk with a 3rd of the butter cream.
5. Shape into an egg shape. Return to wax paper covered cookie sheet.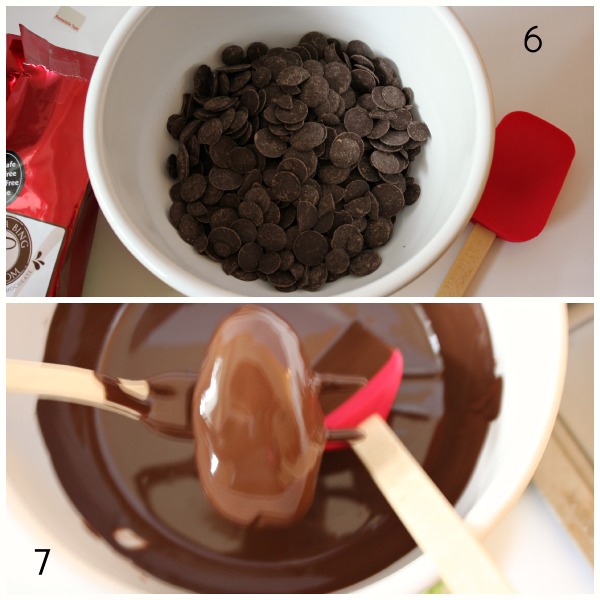 6. Melt chocolate according to package directions. I melted this batch in a double boiler, but there are microwave directions as well.
 7. Dip eggs into melted chocolate spoon chocolate over entire egg. Lift out with a dipping fork. Let extra chocolate dip back into bowl. Place dipped egg back on wax paper covered cookie sheet to set.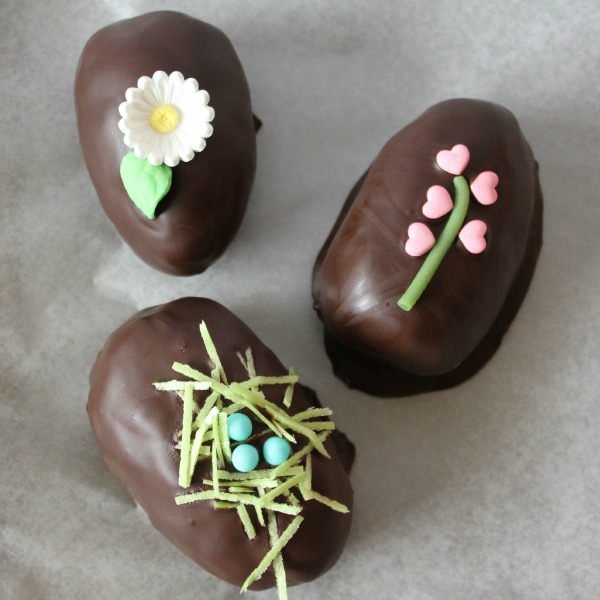 You can add decorations (if desired) while chocolate is setting.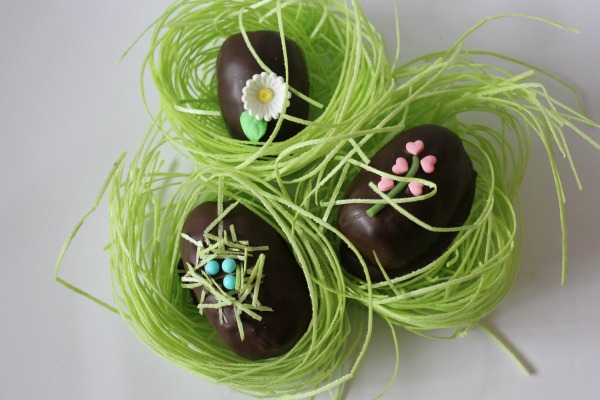 Package up your Dark Chocolate Butter Cream Eggs and give them to your favorite peeps.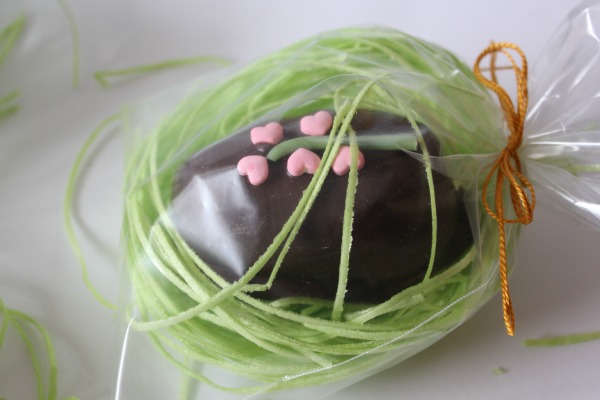 They would make super cute Easter favors.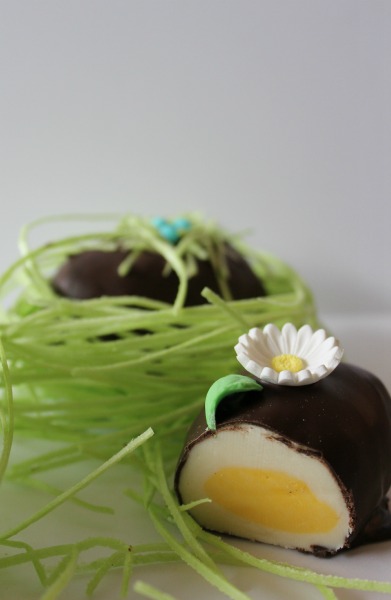 Or, slice them up and share them with your family.

*Chocoley kindly provided me with the ingredients for this easy recipe.