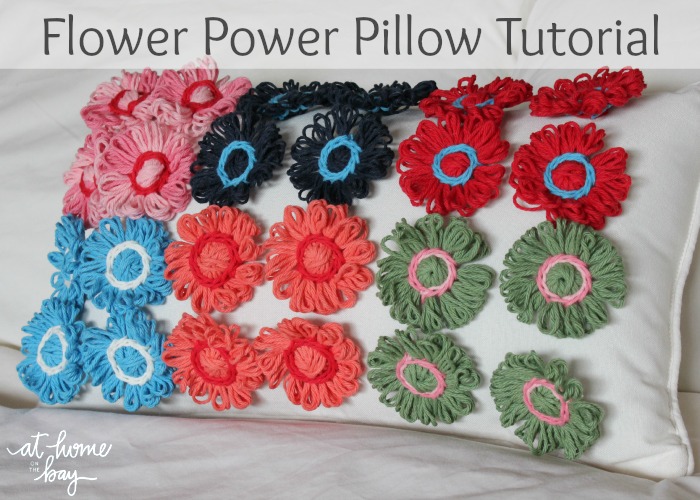 Flower Power Pillow Tutorial
With the start of spring just a few days away, I am getting ready to welcome it with open arms by adding some cheer around the house in the form of pillows. I was inspired by this kitschy floral throw from Anthropologie.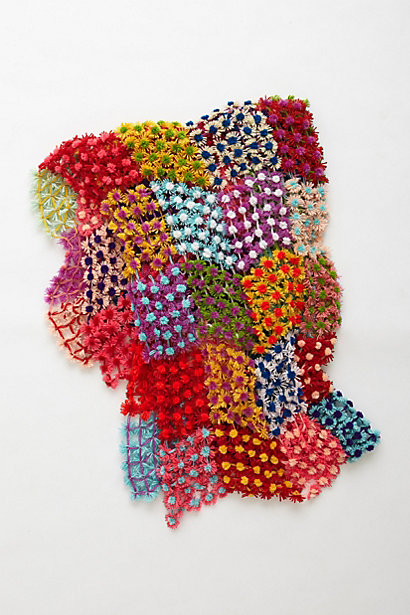 Anthropologie Daisy Patchwork Throw $398
It is reminiscent of grandma's crochet throws of the past. It's bright and fun and the color is just what I need right now to get me over the winter doldrums.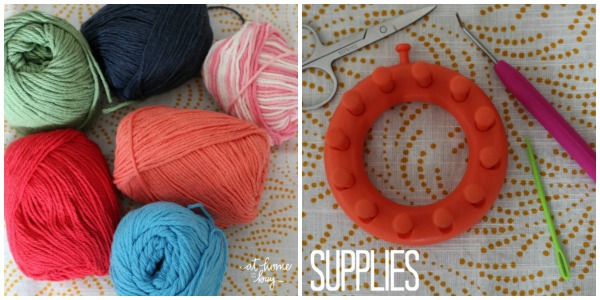 Supplies
I used a Loops & Threads Flower Loom which included a yarn needle and hook. I picked mine up at Michael's for $4.99. The other supplies you will need are scissors, yarn (I used some leftover worsted weight yarn.), sewing needle and thread (or fabric glue) and a pillow.
The loom comes with easy to follow directions, but if you'd rather watch a video, I found a great one here: How to Make a Flower on a Circular Loom from BobWilson123.
1. Begin by making the petals. Wrap end of yarn around side peg a few times to anchor in place leaving a 5 inch tail. Wrap yarn in figure 8 pattern going across to opposite pegs and moving one peg to the right after each wrap.
2. Continue wrapping around each peg until there are 5 loops on each peg. Cut the yarn leaving a 5 inch tail and push through to back side. Release the anchor yarn and bring that to the back and tie both ends together in a tight double knot.
3. Stem stitch the center. This is a great video on the stem stitch from Knitting-and.com.
4. Complete two rows of stem stitch.
5. Bring ends to back and tie with a double knot.
6. Remove flower from loom using the hook provided. Hook the loops and slip over the pegs.
7. When the flower comes off the pegs it will look like this. Clip the loose tail ends of the knots off.
8. Fluff up the petals by spreading them apart like a bow.
9. Make as many flowers as need to cover your pillow. I made 4 each of 6 different color ways. Using the thread and needle attach flowers to pillow by tacking them down in the centers.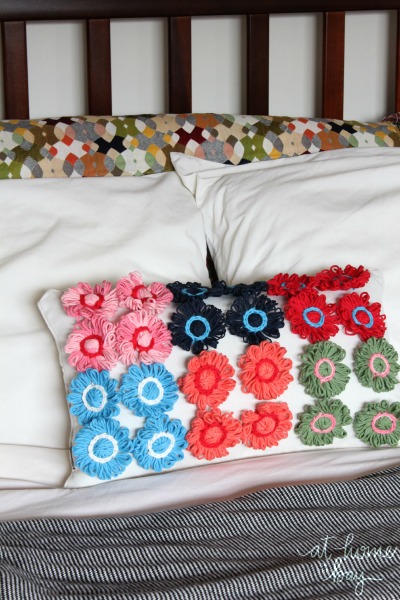 You can make just a few flowers if you like. On this pillow I made the flowers the same way, but clipped the loops after I took the flower off the loom and then fluffed up the petals.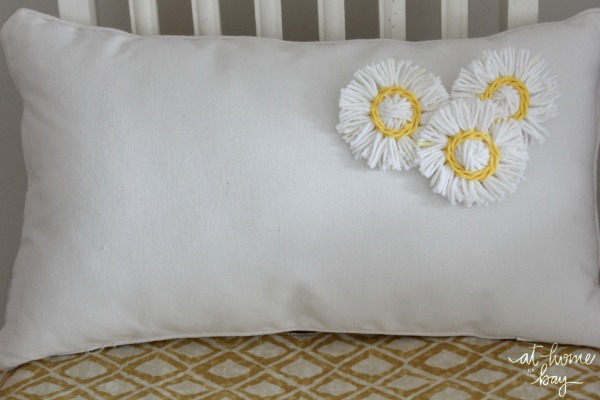 I am ready for some spring weather!