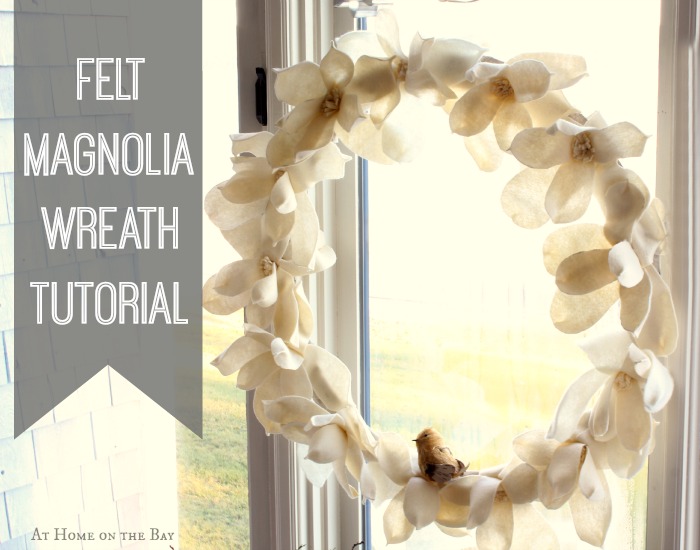 Welcome to Day Four of the Creating a Handmade Christmas Tour. Christmas is one of my favorite holidays, because there are so many opportunities to create something handmade. Whether it is an ornament for the tree, a gift for a teacher or baked goods for a co-worker, there are so many ways to show how much we care about someone by giving them something that took time to make. After all time is our most precious commodity.
Today, I am sharing a tutorial on how to make a felt magnolia flower wreath. These flowers are fun to make and if you don't want to make a 24″ wreath you can make less flowers for a smaller wreath, or just make a few to embellish gifts or hang on the tree. They would even make cute napkin rings.
Let's start with the supplies needed.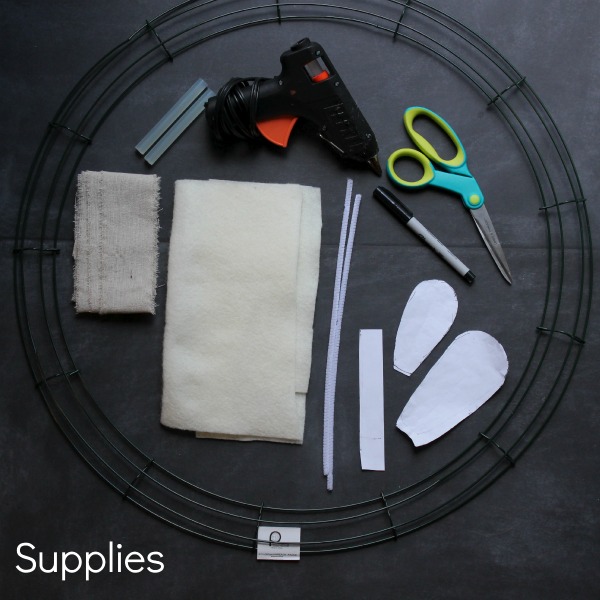 SUPPLIES:
13 – 9″x 12″ felt sheets in cream
4 – 2 1/2″ x 44″ linen strips
1 – 24″ wire wreath frame
13 – 12″ chenille stems in white
marker
scissors
glue gun and glue sticks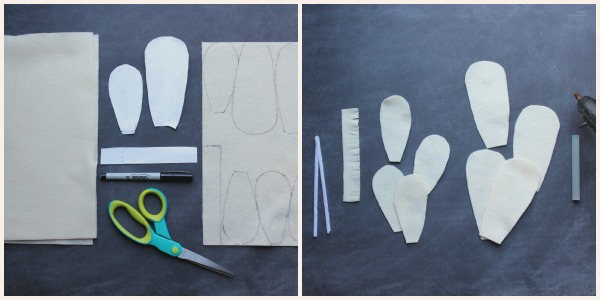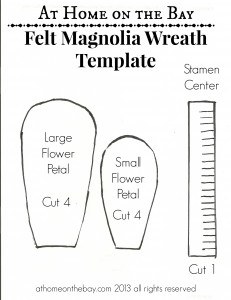 Click here to download and print the template.
 Begin by printing the template on paper and cut out the pattern pieces. You will need 13 flowers to make the 24″ wreath. Each flower has 4 large petals, 4 small petals and one stamen center. I traced all 9 pieces of each flower onto one sheet of felt and repeated it thirteen times. With scissors, cut traced shapes out from felt sheets.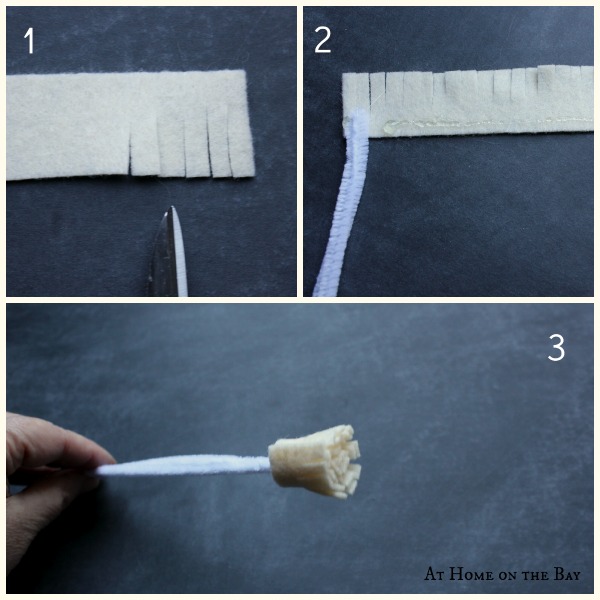 1. Begin by making the center of each flower. Clip stamen piece of felt every 1/4″ as shown above. It will look like fringe.
2. Bend chenille stem in half. Add a line of hot glue along uncut edge of stamen. Place bent edge of chenille stem on glue and roll tightly.
3. Your center should look like the above photo.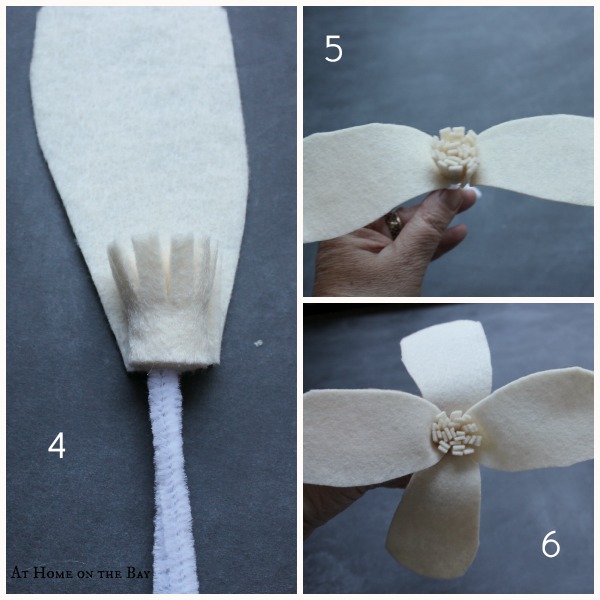 4. Next, glue a small flower petal to the center.
5.  Add another small flower petal to opposite side of center.
6. Do the same for the last two small petals. You should have a cross shape.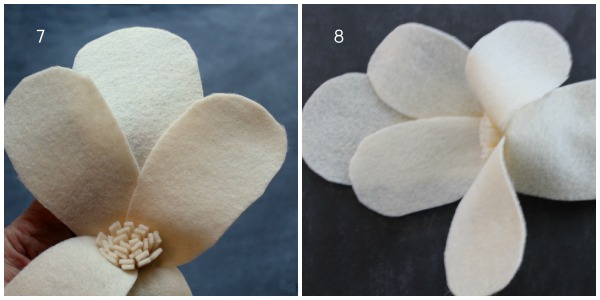 7.  Next, add a large petal offset to the small petals (see above).
8. Continue in the same manner with the next three large petals.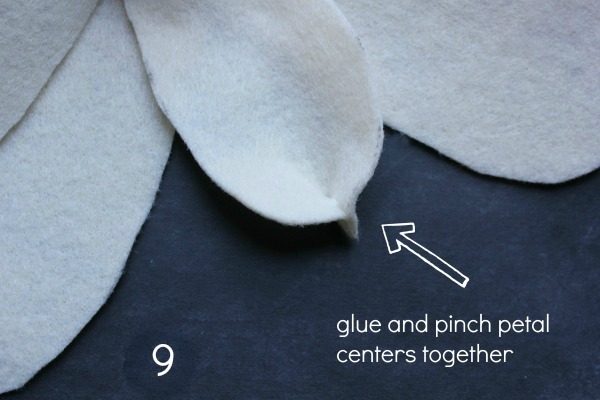 9.  For the final step in making the flowers, glue and pinch together the center tip of each petal. This really gives the flower structure.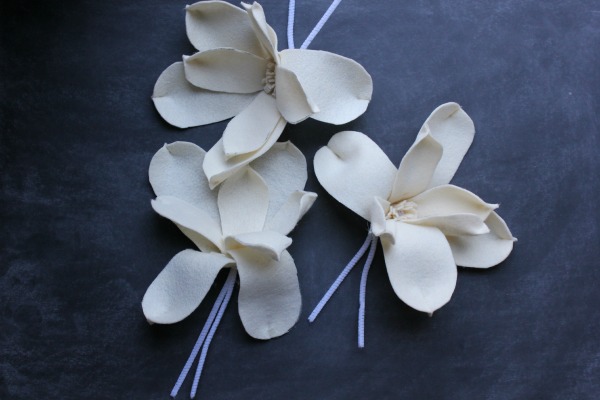 Make thirteen flowers.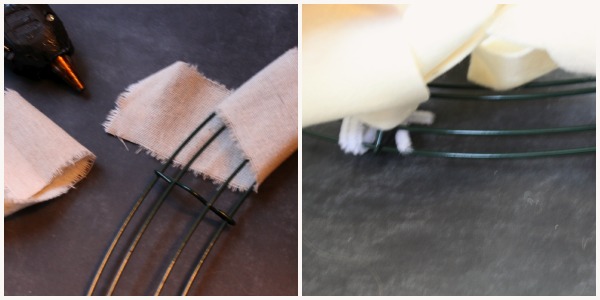 Wrap wire wreath frame with linen strips and glue in place. Add flowers evenly spaced around wreath form by twisting chenille ends. (I used the cross wires  above as a guide.) Hide chenille stem ends inside linen strips. Hang wreath and glue flower leaves into place here and there.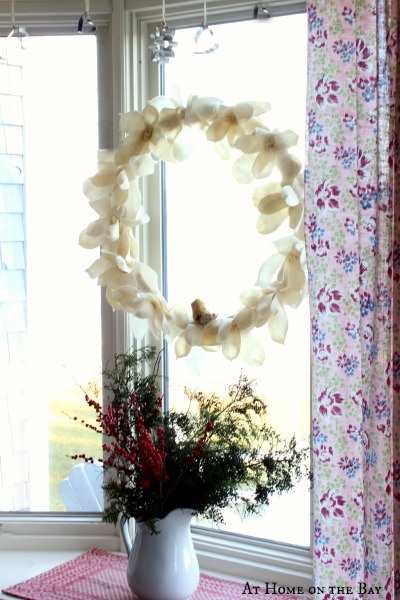 That is it. You are done. You can embellish the wreath by adding a bow. I added a small brush bottle bird to the wreath.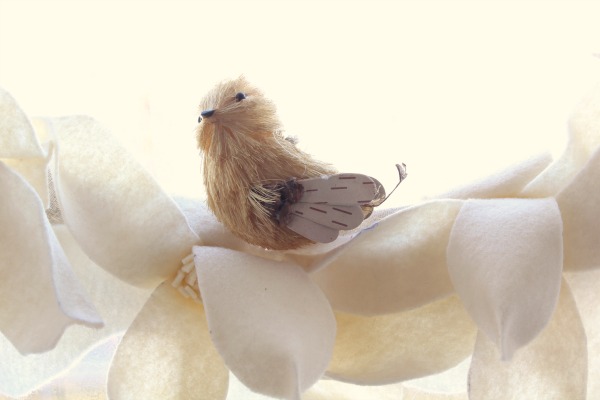 This is just day 4 of the 5 day tour on Creating a Handmade Christmas. There have been so many wonderful ideas shared. If you want some inspiration, check out the other amazing projects in the links below.

Friday December 6
Saturday December 7

Sunday December 8

Monday December 9

Tuesday December 10