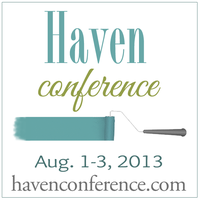 Today, I am heading down to Atlanta for the Haven Conference. I am excited and nervous all at the same time. I am looking forward to learning from an amazing group of speakers, and meeting other Home Décor/DIY bloggers in real life. I'm nervous, because this will be my first blog conference, and I am not sure what to expect, and … um … traveling alone is way out of my comfort zone. I'm sure it will be fun. At least that is what I keep telling myself.
I'll be sharing photos on Instagram while I am there.

I'll be back on Monday with a tour of a dining room done on a budget.