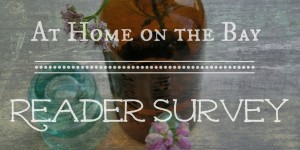 Hello and happy weekend. I was wondering if I could ask a favor of you? I want to get a better handle on what you like about At Home on the Bay and how I could improve things around here. I promise it will only take a few minutes of your time. It is 100% confidential, and there are just ten questions. Your input would be greatly appreciated.
Click here to take  At Home on the Bay's reader survey.
Thanks again for all your help!