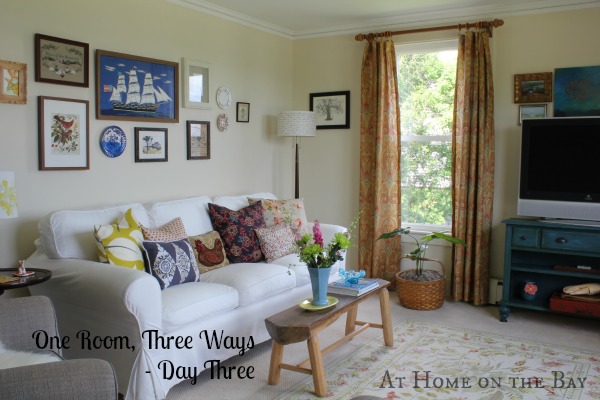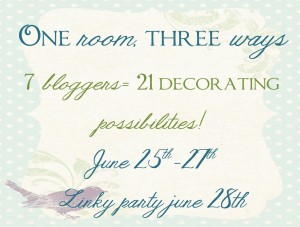 Welcome back to day three of the One Room, Three Ways series. This was so much fun for me, although I have to admit I will sleep well tonight.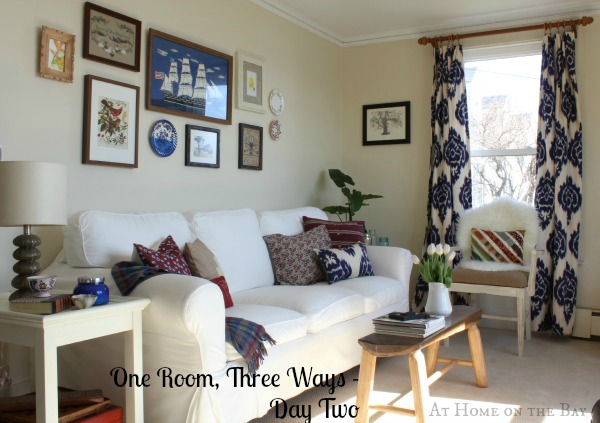 This is where we left off on day two. There was a definite red, white and blue color scheme. And, I thank you so much for all the sweet comments. They really made my day.  You are the best. Truly.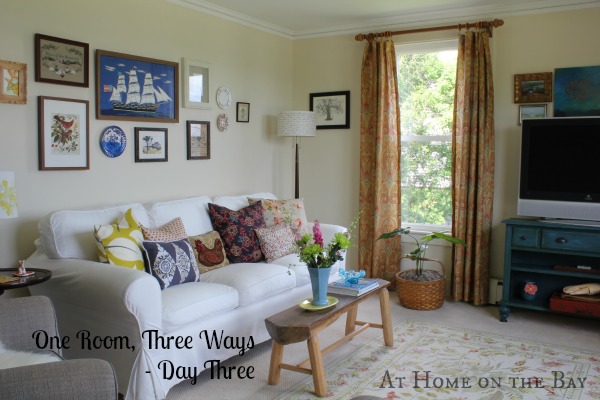 For day three, I decided to throw all the rules out the window – no matching, no color scheme, no stress. Anything goes is my motto today. I think this might be my favorite room, although I may have to save my pennies for some more ikat fabric, because I miss the curtains.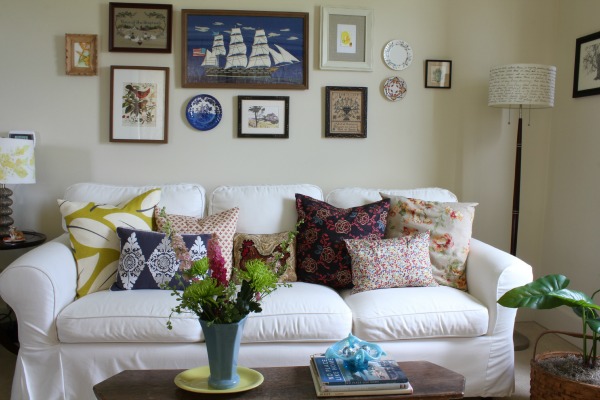 I took everything out of the room again, except for the sofa, bench and artwork. I scooched the sofa down the wall a bit, and brought in a floor lamp that my mother gave me, because she wasn't using it anymore. You can read about how I wrote on the lampshade with a sharpie here. Another random piece of artwork was added to the wall above the sofa. The plant was put into a wicker basket and placed by the window. I spent $15 on fabric to make some new pillow covers, and grabbed a few more pillows from around the house.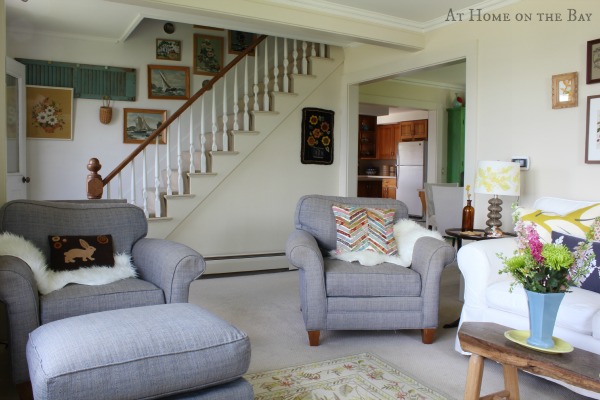 I brought back the matching armchairs and ottoman from day one. I had the rug in a closet. I purchased it at a yard sale last year and never had a place for it, but it worked perfectly here. A hooked rug was hung on the wall.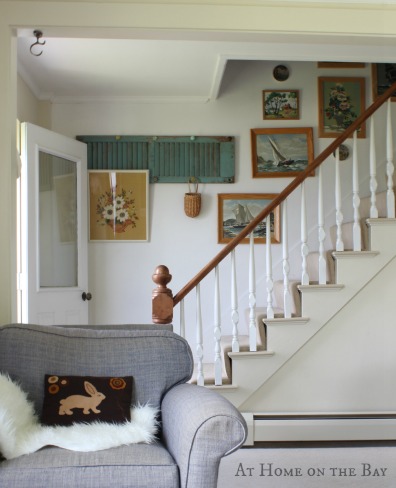 A framed crewel embroidery was hung on the coat rack … remember … anything goes.
If you give this girl a budget, she will spend every penny. We mainly shopped our homes, but we had a $100 budget over the three days. I used $22 on day two, so according to my calculations I had $78 left to spend. I spent $50 on this round mahogany table. I works perfectly here. The lamp is from the master bedroom. I changed out the shade to an embroidered one I had on another lamp.
I spent $10 on flowers and I still have $3 leftover. I'm sure I can find something at the weekend yard sales.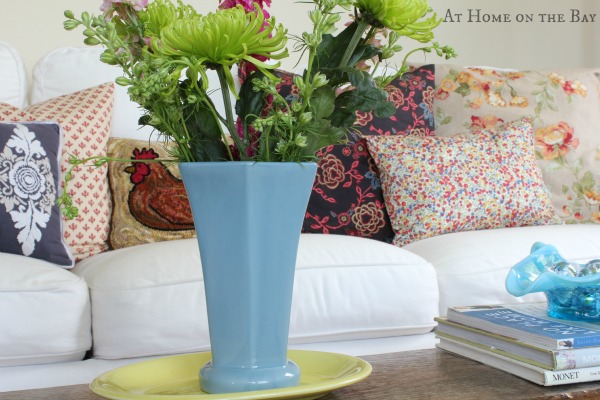 This room really feels casual and comfortable to me, and I like that feeling.
Click on the buttons below to see how my friends changed their rooms on day three.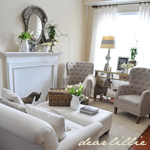 Dear Lillie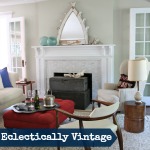 Eclectically Vintage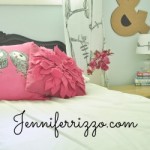 Jennifer Rizzo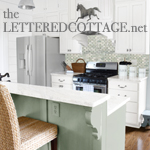 The Lettered Cottage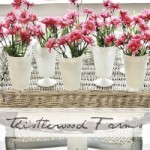 Thistlewood Farms
Tomorrow is the link party.  You can link your room at any one of these blogs and it will show up on all seven. I can't wait to see your room.

P.S. Three more days until Google Reader shuts down.
You can follow me on Bloglovin by clicking below.

Did you know that transferring the blogs you follow on Goggle Reader to Bloglovin is as easy as one click?