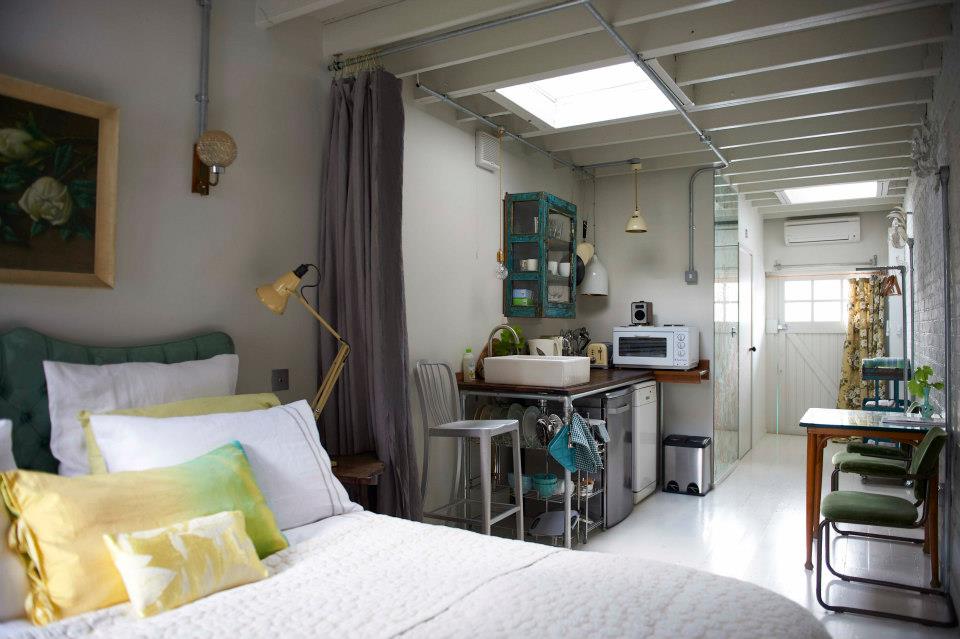 Are you traveling to London anytime soon?  It's on my bucket list, and I know exactly where I will stay – professional photographer Debi Treloar's B & B apartment.  It's located in the quiet section of Queen's Park close to central London and the accommodations are perfect, eclectic and comfortable … not to mention exquisitely decorated.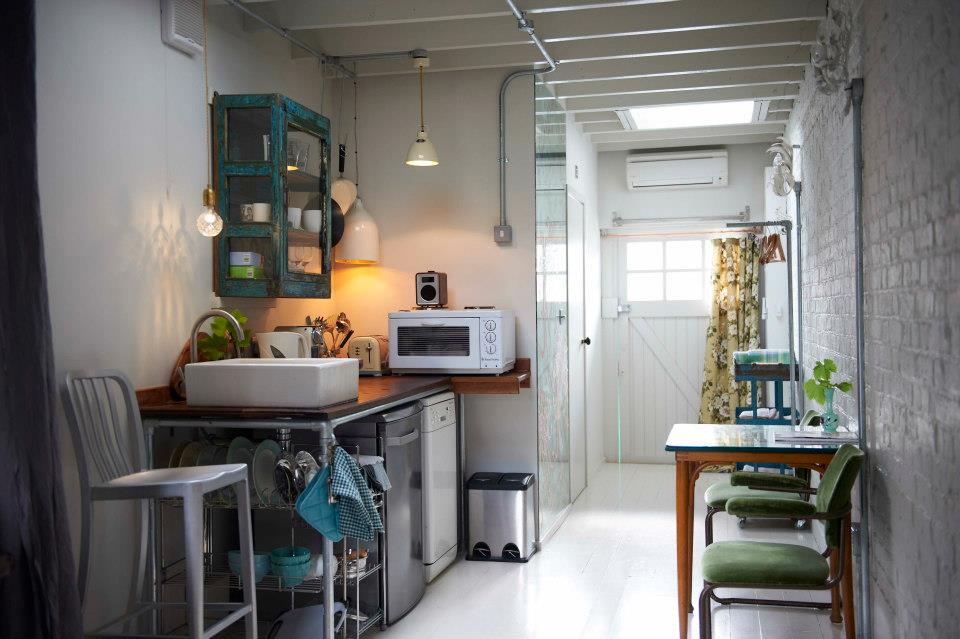 Debi turned her garage that was falling down into this beautiful and unique studio apartment.  She used reclaimed pieces, antiques, and eBay finds along with new pieces to decorate this well functioning accommodation.  I love how Debi decided to run all the wiring through exposed conduit for an industrial feel.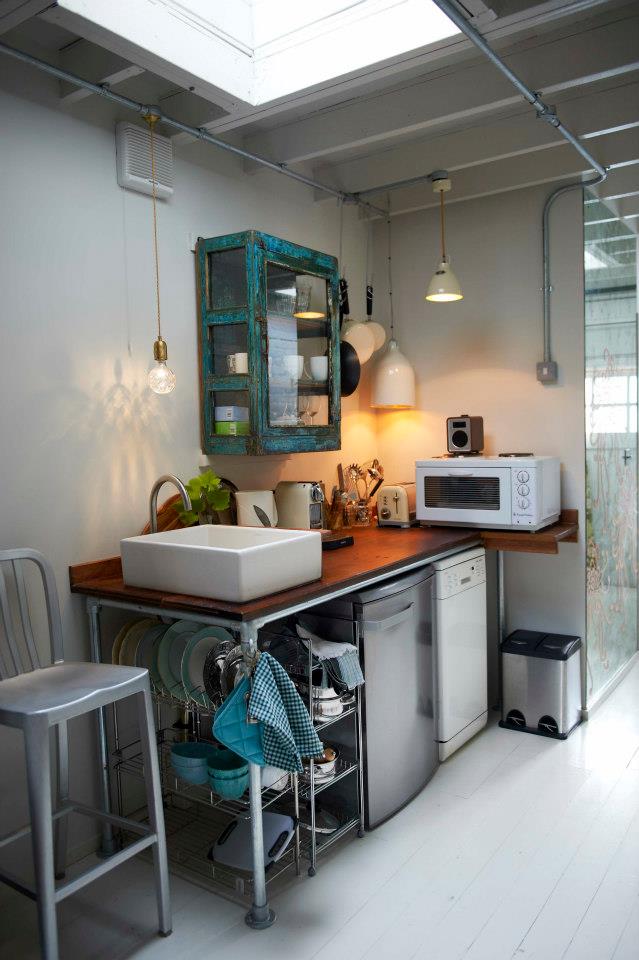 The kitchen counter is made from reclaimed scaffolding with a  reclaimed lab worktop. Beautiful industrial and vintage style lighting illuminates the work area. The turquoise cabinet is an antique find.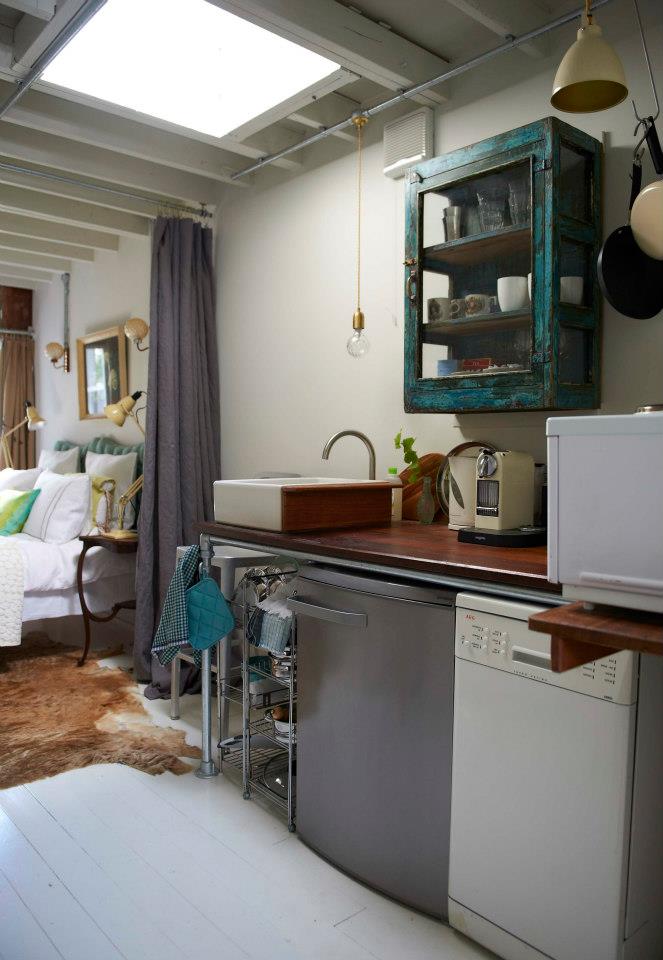 The kitchenette comes complete with all the modern conveniences including a refrigerator and dishwasher.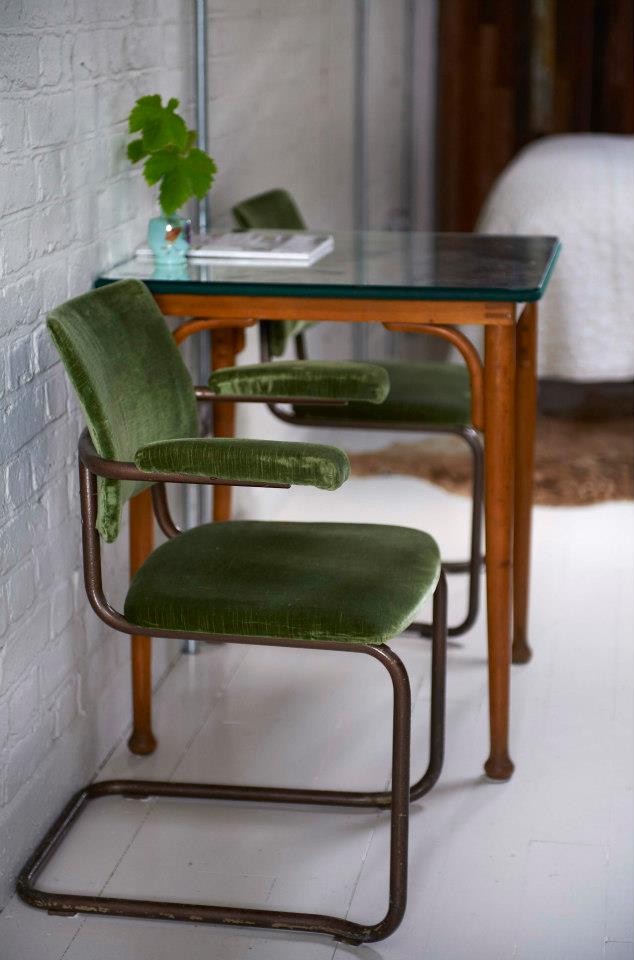 These amazing original Bauhaus chairs and old card table were found on eBay.  Isn't that olive green color stunning?  Debi covered the card table with a piece antiqued glass.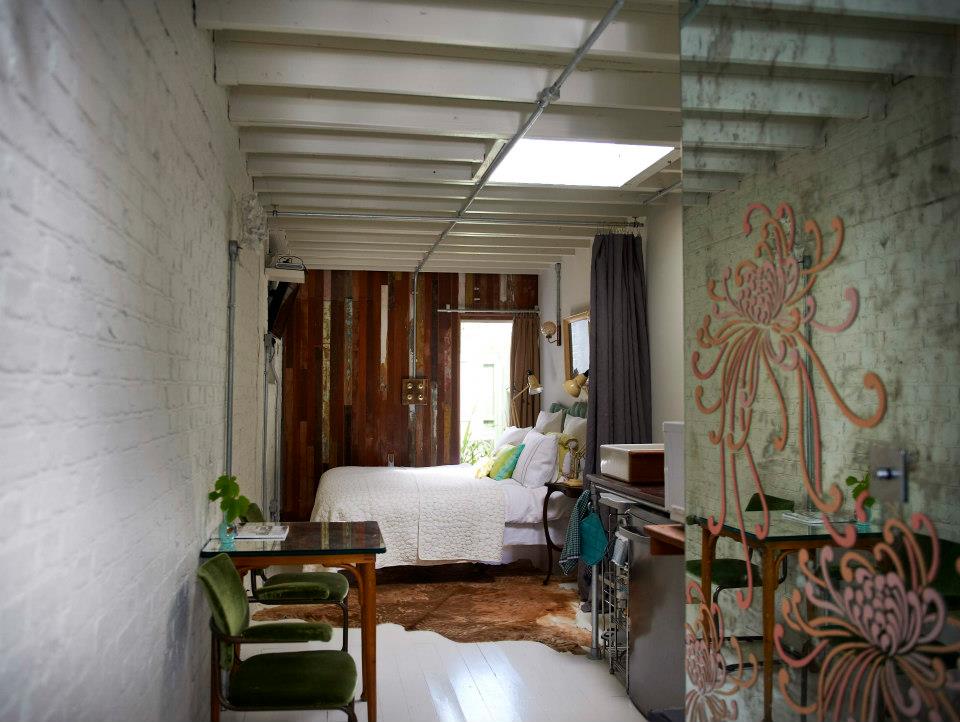 Debi's son, who is in art school, antiqued the large mirrored panel on the right as you enter.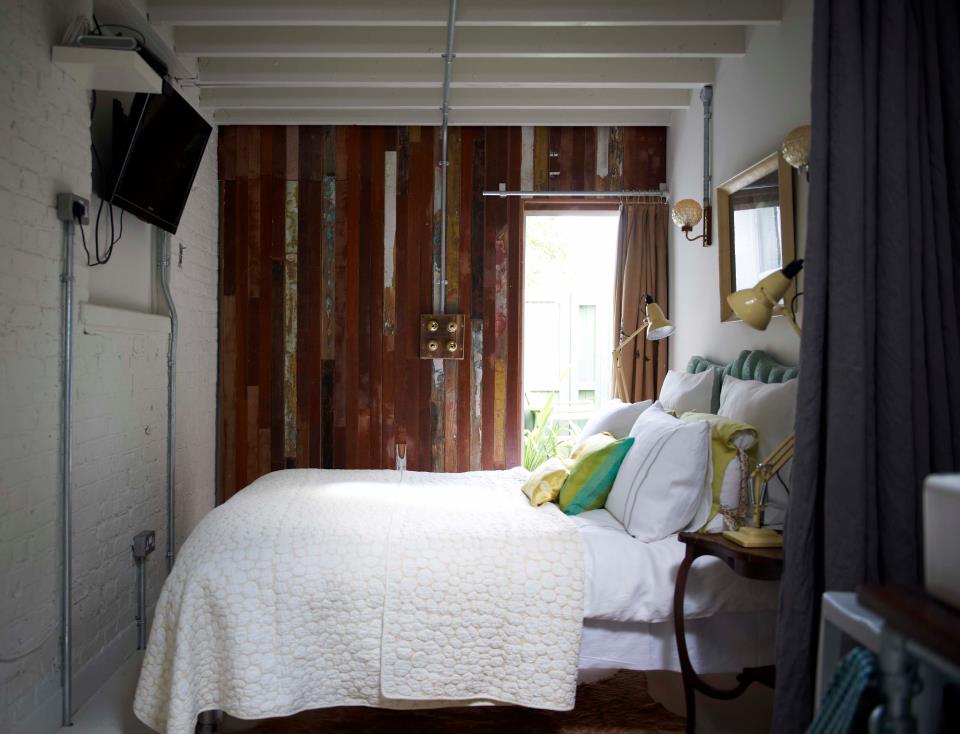 The bed is also made from reclaimed aluminium scaffolding and has a handmade king plus size mattress.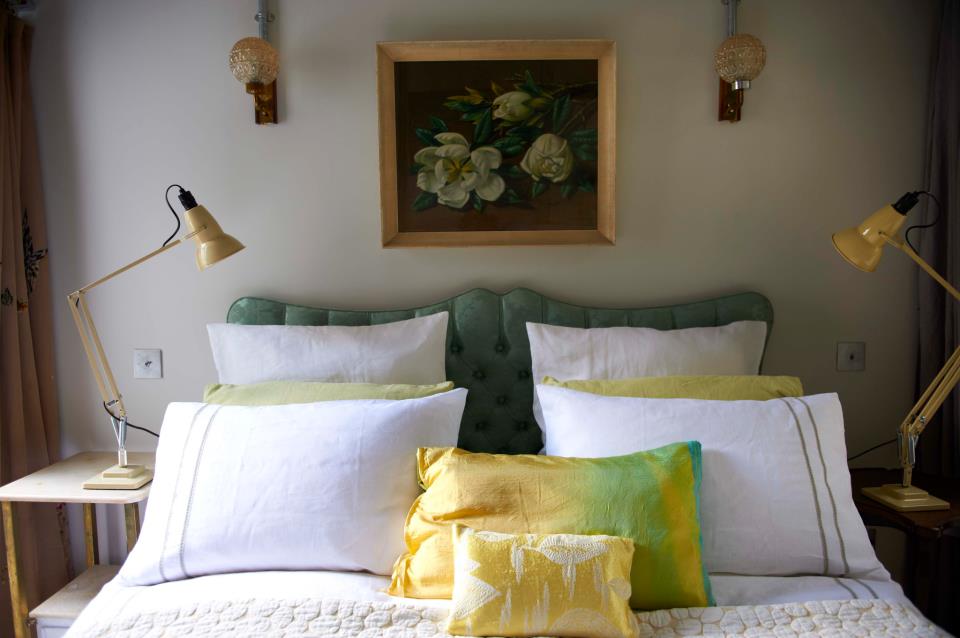 The linens are all luxury.  Debi bought the bed covers while on vacation in India.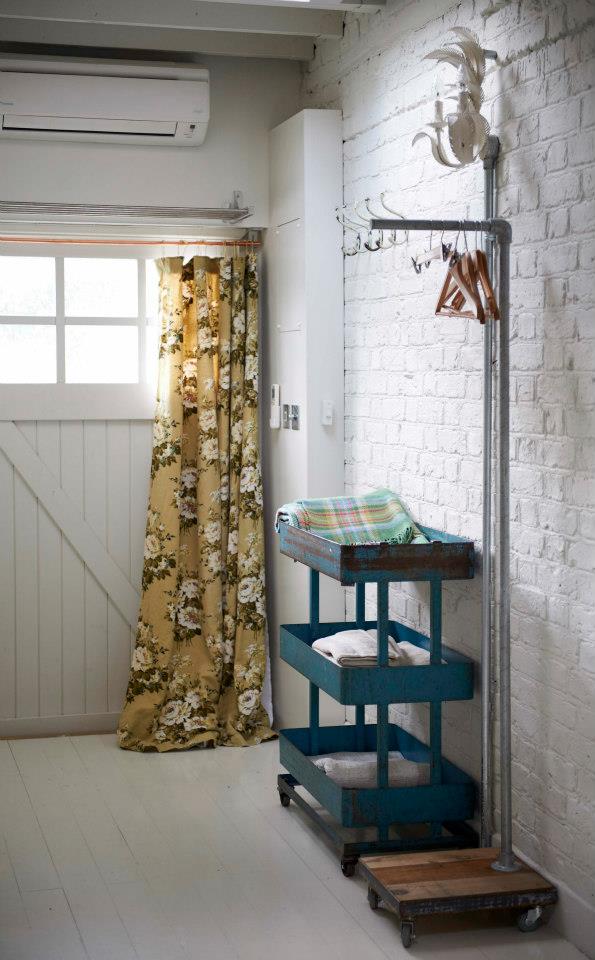 The curtain in the entryway was homemade with vintage fabric and lined with new linen.  That fabulous blue trolley cart is from a local home store.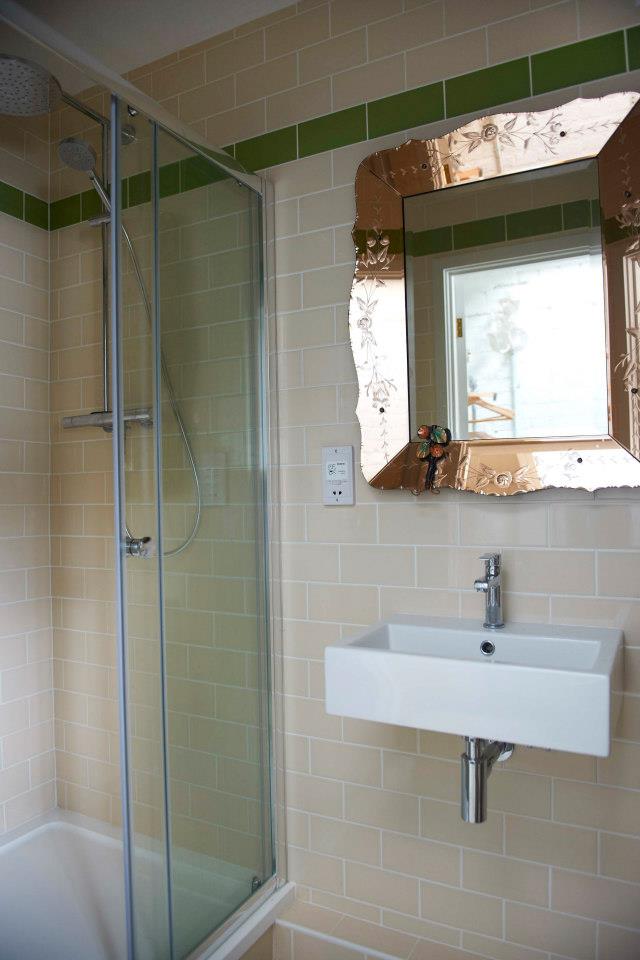 The bathroom is fitted with luxury fixtures and has a spa like feeling.  You won't want to leave it, but there is all of London to see.  I love the contrast of the modern sink with the antique mirror.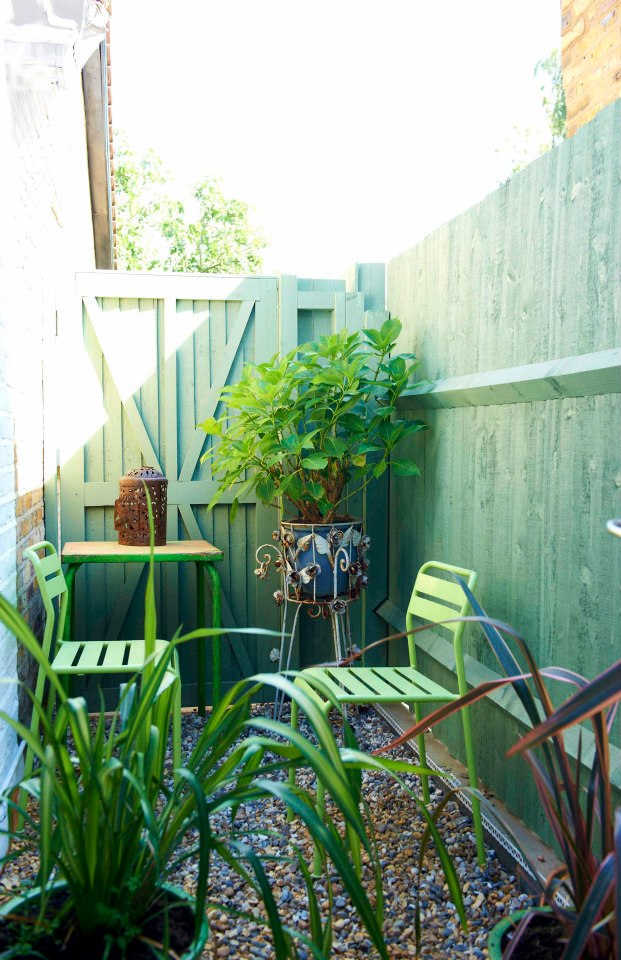 There is even a small private outdoor space for enjoying a coffee and planning your day in the city.
I love Debi's style.  She knows how to mix industrial, reclaimed and vintage finds to make a cozy, eclectic space.  Thank you to Debi for letting me take you on a tour of her beautiful B & B Apartment.  For more information, details and pictures, you can visit the apartment's listing page or Facebook page: 14mpr.
  All photos are courtesy of Debi Treloar.
You can visit Debi's blog and get a glimpse of her gorgeous home by heading over to her website, Double Exposure.
The bed and trolley cart came from Bailey's Home.
Kitchenette, wood panelling on back wall, knobs and knockers are from Retrouvius.
Antique mirror in bathroom is from Sunbury Antiques Market.
Kitchen cupboard is from Newbury Antique Fair.
All the lighting is from Caravan.
I'm off to pack my bags … I wish.
Sharing with: