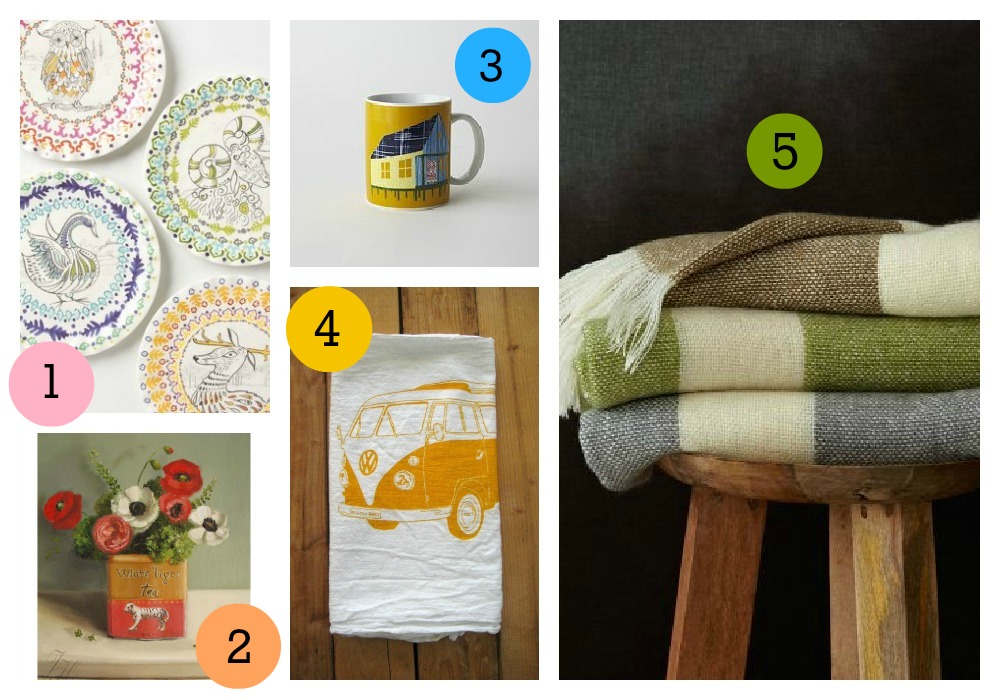 1.  I love these Forest Fable Dessert Plates from Anthroplogie.  Four different forest creatures grace the fronts of these earthenware dessert plates (ram, owl, swan, and deer).  They are only $12 each.  Who wouldn't love one of these plates with some cookies on it?
2. A reader recently told me about the artwork of Janet Hill, and I immediately fell in love.  Janet is an artist who resides in Canada.  Her work is beautiful and nostalgic.  This 8 X 10 still life print is $26.  Check out her Etsy Shop.   She is suggesting ordering before December 1st for Christmas delivery to the U.S.
3. This colorful mug from West Elm would make a nice gift for anyone, and 50% of the proceeds will be donated to the charity Architecture For Humanity.  This mug is part of the charity Mug Project.  There are other mugs associated with charities to pick from including St. Jude and the ASPCA. Price is $10 each.
4. These screen printed tea towels from Oh Little Rabbit have been a favorite of mine for years.  There are so many great prints to choose from, but I especially love this VW bus print.  These large flour sack tea towels are made of organic cotton and are only $8.
5.  I've been admiring this Stripe favorite Throw  from West Elm for a while.  I thought it was a great value for $29, but as I write this post it is on special for $19 and free shipping.  There are several colors to pick from.
I have not being paid to promote these items, nor have I received any goods.  These are just a few items I came upon recently that I thought were good values and would make nice gifts for the holidays.
Happy Shopping!
Sharing with: