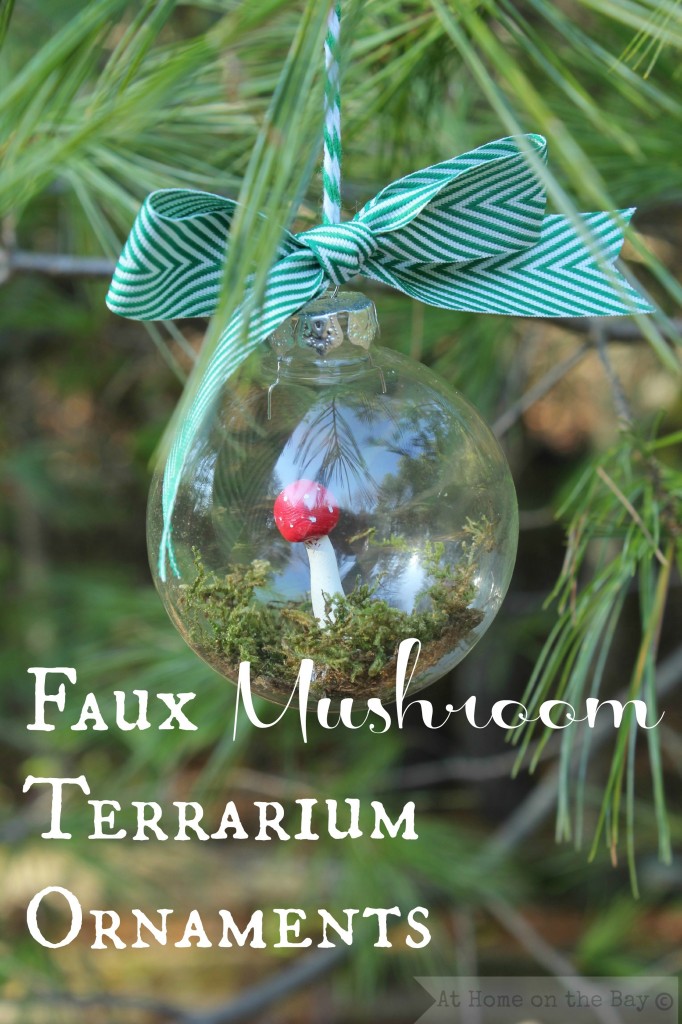 Faux Mushroom Terrarium Ornaments
Terrariums are fun, classic holiday gifts.  I love these glass hanging orbs from Terrain.  Sweet … right?  I decided to make some "no green thumb required" terrariums … as in faux terrariums.  The little mushrooms are made from Sculpey Clay.

One 2 oz. package of white Sculpey Clay made a whole lot of tiny mushrooms.  I started by softening the clay which you can do by warming it up in your hands.  For the stems, I took a piece of clay and rolled it into a small log, cut off 1 inch pieces and then shaped them into stems by making one side a little wider than the other (1).  For the mushroom caps, I rolled a thicker log and cut of small pieces and shaped them into half round mushroom caps (2). Tip: Make sure your caps are smaller than the opening of your ornaments.  Next, I used a toothpick to make an indentation in the mushroom cap and then stuck the stem into it (3).  Make a bunch of the mushrooms (4).
I baked the mushrooms on a parchment paper covered cookie sheet in a 275* oven for 20 minutes according to the package directions.  After they were cool, I painted the caps with Martha Stewart high gloss acrylic paint in Habanero red.  When they were dry I used a Sharpie paint pen in white to make little dots on the caps.
Now, to put it all together you'll need some moss ( I had some leftover from the paperwhite project), a hot glue gun, tweezers, pencil, clear glass ornaments, and the clay mushrooms.   This can be a little tricky, but I first broke apart a little moss and got it ready to put inside the ornament.  Next, I used the pencil to put a couple of hot glue dots at the bottom of the ornament and then quickly added the moss, pressing it down with the other end of the pencil.  Once the moss was in place, I used the tweezers to hold the mushroom cap, added some hot glue to the bottom of the mushroom and then pressed it into place inside the ornament.  The eraser side of the pencil was great for pressing the mushroom into place.  I added extra mushrooms and small rocks to some of the ornaments.  Have fun with it.  Finally, I added a little ribbon and baker twine to the top and snapped it in place.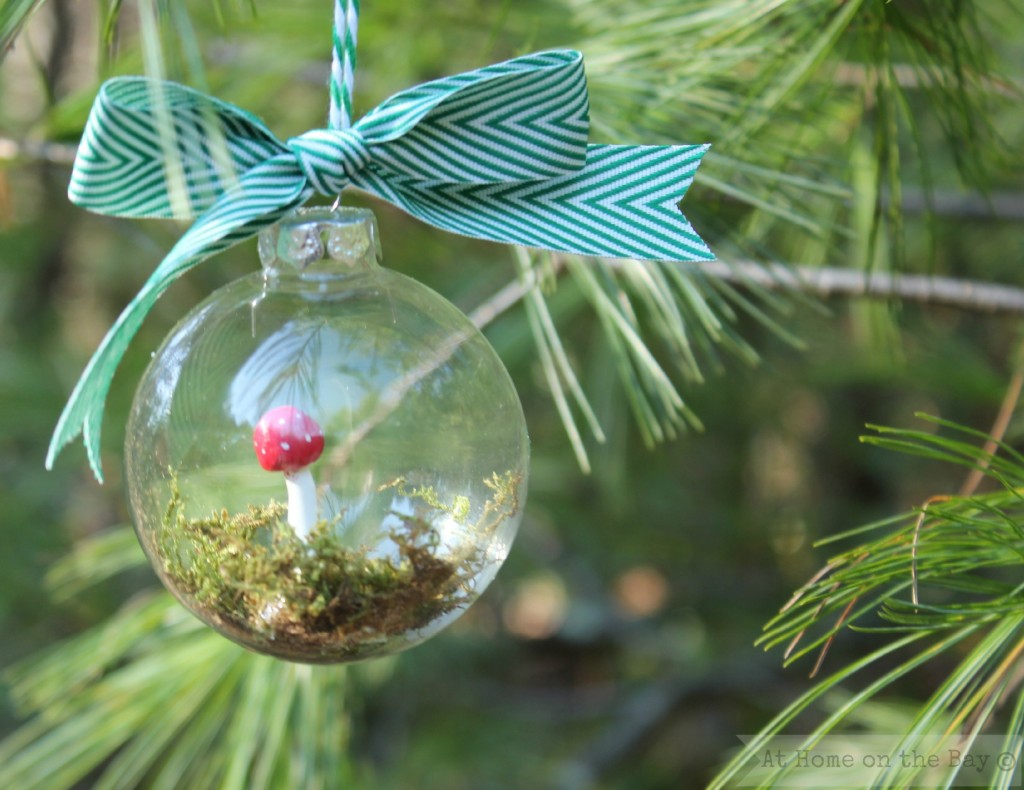 Wouldn't it make a cute teacher gift!
Linking with: